Learn more about Comeet's collaborative hiring platform by clicking here to join our weekly 30-minute demo. 
McKinsey & Company's recent "Becoming CEO" report features data on new CEOs and what areas they believe they should have focused on more quickly in hindsight—specifically in the area of hiring or retaining top talent.
From the McKinsey report:
Regardless of the outcome, many C-level executives acknowledge that they did not have all the answers when they began their new positions—and that their direct reports played a valuable role. Most executives (including those whose transitions were a success) say they relied on their direct reports' input when determining solutions to the strategic problems they faced at the beginning of their tenures. When identifying which activities were most important to the transition's outcome, 86 percent of respondents cite mobilizing teams to function as a high-performing group, second only to creating a shared vision.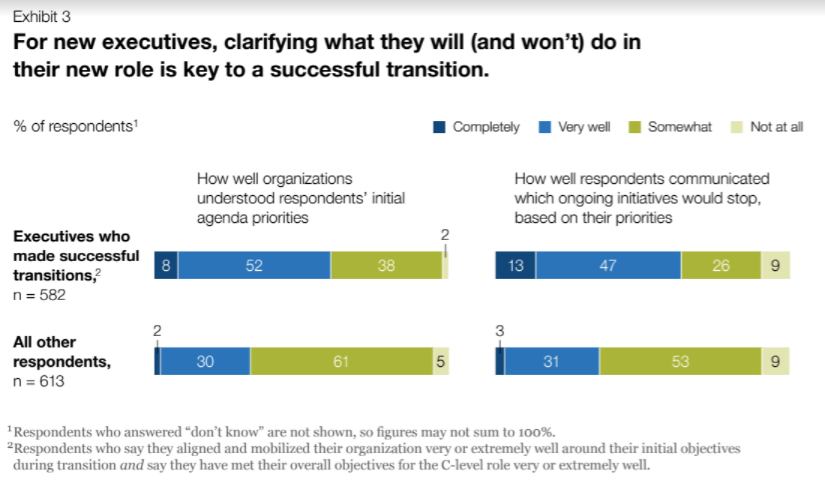 Source: McKinsey Quarterly "Becoming CEO"
Executives tend to keep their inherited teams intact: 74 percent say at least half of their initial reports were still on their teams by the end of their transitions, and the most successful respondents made even fewer changes to their original teams. Respondents also believe it's important to move fast to get the right people on their teams. A majority say their final teams were in place within the first year, but they still wish they had moved more quickly. While with hindsight, executives would have moved faster in every area of their transitions, they are most likely to say they should have acted quicker to put their teams in place.
Since hindsight is 20/20, if you're in a leadership position or on track to become a CEO, this is a great opportunity to learn what to focus on; clearly talent and the importance of hiring not just for talent, but also for culture and fit within an organization. This is especially critical in senior leadership roles where teamwork and fast-moving growth is key. It's also critical for for these leaders to mirror the behaviors and priorities of their CEO so that they are doing the same things for the organization so that CEOs are more successful in their tenure.
CEO Focus on Preparation in Key to Success
More than half of the CEOs reported that they focused more on preparation for their new roles than on building leadership teams. Both internal and external hires agreed that they most often struggled with implementing material changes to organizational culture.
From the report:
Part of the challenge posed by culture is that many executives believe they don't have accurate ways to measure or even describe it. This is especially true for external hires, 42 percent of whom say it would have been most valuable to have more information on culture during their transitions, compared with 29 percent of internal hires. Of all respondents, nearly half say that during their transitions, they assessed the effectiveness of their organizations' cultures less rigorously than their business initiatives, or not at all.
For new CEOs, hiring and retaining top talent is one area most mentioned when asked what they would have done differently. This ties directly into hiring talent that is a cultural fit, whether you're promoted from within the company or recruited externally, a deep understanding of company culture is necessary to make the right judgment calls on building a solid leadership team.  
Communication to Direct Reports Critical to CEO Success
Executives reporting the most successful transitions stand out from the rest in how they built buy-in and communicated a vision to their teams and their organizations. These respondents are nearly twice as likely as others to say their organizations understood their initial priorities well—and were much more effective at communicating which initiatives would not continue, given those priorities (Exhibit 3, below). The most successful executives also say that 69 percent of their direct reports actively supported their initial strategic directions, compared with 60 percent of direct reports for their peers.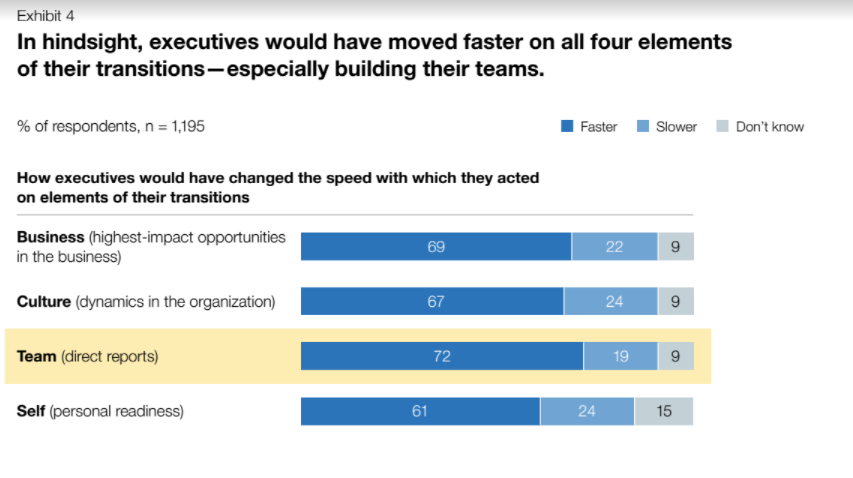 Source: McKinsey Quarterly "Becoming CEO"
In summary, the report's results suggest that executives who make the most successful transitions received important resources and information from their companies. Yet, few organizations have established internal capabilities or ownership for the transition process. Given the high price organizations pay for every failed transition, more of them should develop a systematic approach to support new leaders. The most successful approaches we've seen blend in-class learning with other interventions, such as personal coaching for the first 6 to 12 months on the job.
Are you looking to start your hiring process today? Comeet can help. Check out our plan options to learn more about how we can redefine the way you recruit new talent.
Was this article helpful?