We have tons of features and functions. You have a few questions. Here are answers to your top 5.
It's always fascinating to sit down with our sales team and review the most frequently asked sales questions during recent product demos and trials. The reps are on the front lines introducing prospects to modern collaborative recruiting so it's valuable to hear the feedback of people either seeing Comeet for the first time, or shortly after beginning a trial (aka. a real-world test drive).
Here are five frequently asked sales questions from the past month:
1. Is the task owner notified when a task is pending or scheduled?
Yes. The system notifies task owners (like you) of current, upcoming or  overdue  tasks. How often you receive them is your choice. Frequency and grouping options can be selected in your personal profile. Click your name in the upper right corner. Personal Profile > Notifications. (Note: When logged in, you will not receive notifications. If you are logged in but idle meaning you're not active, you will receive them).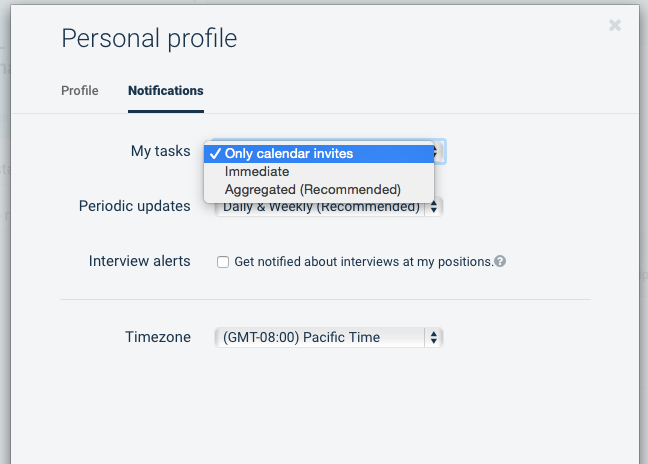 Immediate sends you a reminder email every time one of your tasks is due. Aggregated means you will receive no more than one email every five minutes. If you have not logged in for one day, you receive one aggregated email per day. Calendar invites emails are the minimum frequency. Periodic Updates enables selection of daily or weekly reports, or none at all. Checking the Interview Alerts box will notify Recruiters, Hiring Managers and Coordinators associated with a position every time a candidate interview has been scheduled. It's a helpful and automated way to keep up to date.
2. Source Attribution: How to connect recruiter sources with candidates
If you have a network of candidate sources, a great time saver is to add companies and individuals as sources, then connect them to either specific domains (heidrick.com) or email addresses (johnrecruiter@heidrick.com). Comeet will recognize those domains and email addresses on incoming emails, associate the respective companies or individuals with the candidates, and make it simple to identify them in reports and reward them.
3. How does job board integration work?
This is simple. It takes three clicks to distribute openings to job boards such as Glassdoor. Sources > Integrated Job Boards > Post. That's it. When candidates apply, they will be redirected to the application form on your Comeet careers page.
4. How can I promote jobs on my company's social media sites?
This is equally simple. Click on the position, then the social media Share icon. Select where (LinkedIn, Facebook, Google +, Twitter and Pinterest) you want to share it. Log in using the credentials for your company's account. It will be posted to that page. If you log into your personal account, the posting will appear there.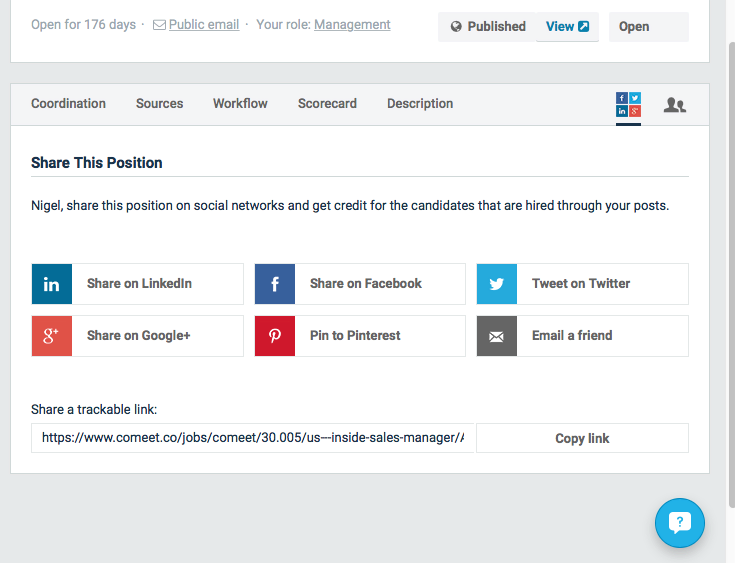 5. Can I send mass updates or emails?  
Yes. Integrated emails and automated notifications are a key part of Comeet. A recruiting manager wanted to know whether she can communicate with all candidates at once, rather than having to send individual emails one-by-one. Here's the scenario: she has an open job that she needs to put on hold. When she reopens it, how can she communicate with everyone? Easy. In the position, you can Set Position Status to one of Open, On-hold or Closed. Any time you change it, the system will ask you if you want to notify all candidates still under consideration. If she were to hire someone, for example, she can change the job status from open to closed, and all remaining candidates will receive a rejection notification. She will also be able to modify the rejection email template before sending it.
If you're interested in learning more about Comeet, schedule a Demo here. Back at you next month with more Frequently Asked Sales Questions. 
Happy Hiring,
Nigel
P.S: The Foundation of the Comeet Product Experience
Just a personal note about Comeet's engineering team. I've spent many years in tech marketing, working with and for more than two dozen companies (mostly startups) in a wide variety of industries. In terms of engineering prowess and output, the Comeet crew is the Alpha Dog – the most productive and clever group I've worked with. They churn out rock solid code really, really quickly. To summarize: they're stellar.
Post with Comeet. Let us show you how it works:
Was this article helpful?