Organizations led by data-driven recruitment teams stay ahead of their competitors.
But data-driven talent acquisition managers, hiring managers and recruiters need sophisticated, easy to use tools and reporting systems in place to be able to make strategic decisions to improve and monitor processes as well as plan for future hiring.
This can be challenging. We know this because we speak with TA leaders every day.
Recruiters and TA professionals have their hands tied. They either have to use the built-in reports of their ATS which might have some nice looking graphs but typically don't allow the customization and the data analysis that they really need. Or, if they have large budgets they can use BI tools that require dedicated developers and data analysts.
As part of our commitment to help fast-growing businesses develop world-class teams, Comeet is excited to announce that it will be rolling out its groundbreaking Recruiting Analytics reporting suite.
Data needs to drive your hiring decisions
It's not good enough for data to simply inform your hiring decisions. It needs to drive them.
This often feels impossible for recruiters and TA professionals, particularly when reports are rigid and not customizable, making important information often seem completely inaccessible.
Whether in a small team or a larger enterprise, recruiters, TA leaders, and hiring managers need to be able to provide reports to management to demonstrate what is happening on the recruiting front; to dig into certain patterns to help improve hiring processes; or to better understand and forecast budgets to plan for the next hiring phase.
For those responsible for global recruiting, imagine a world where all your recruiters and hiring managers are making decisions based on data as opposed to going on gut feel, or as is the case in many businesses, 'building the plane while flying it'.
See your top data points on one dashboard
Our game-changing Recruiting Analytics provides recruiters, TA leaders, hiring managers, and senior executives with more data insights with ease, accessibility, and accuracy to help with weekly monitoring, quarterly reporting or forecasting across the different recruiting domains.
Anyone involved in the hiring process wants to be able to see certain stats and information bites in a particular way based on their recruiting persona.
With Comeet's reporting tool users can customize views to analyze data and trends over time, while also assessing the most important data points on a single dashboard.
Based on extensive feedback when developing Recruiting Analytics, we have grouped the most sought-after data points and combined them all in one report providing recruiters and TA leaders with the data they care about most. Of course users can still drill down into the data further based on position, department, interviews, fill rates, etc.
From 'high level' to 'drilled down' in a single click
Drill down from high-level KPIs and summary tables to the most granular data points relating to a specific candidate, job opening, or task. Users now have the option to run quick check up reports and more of a deep-dive analysis.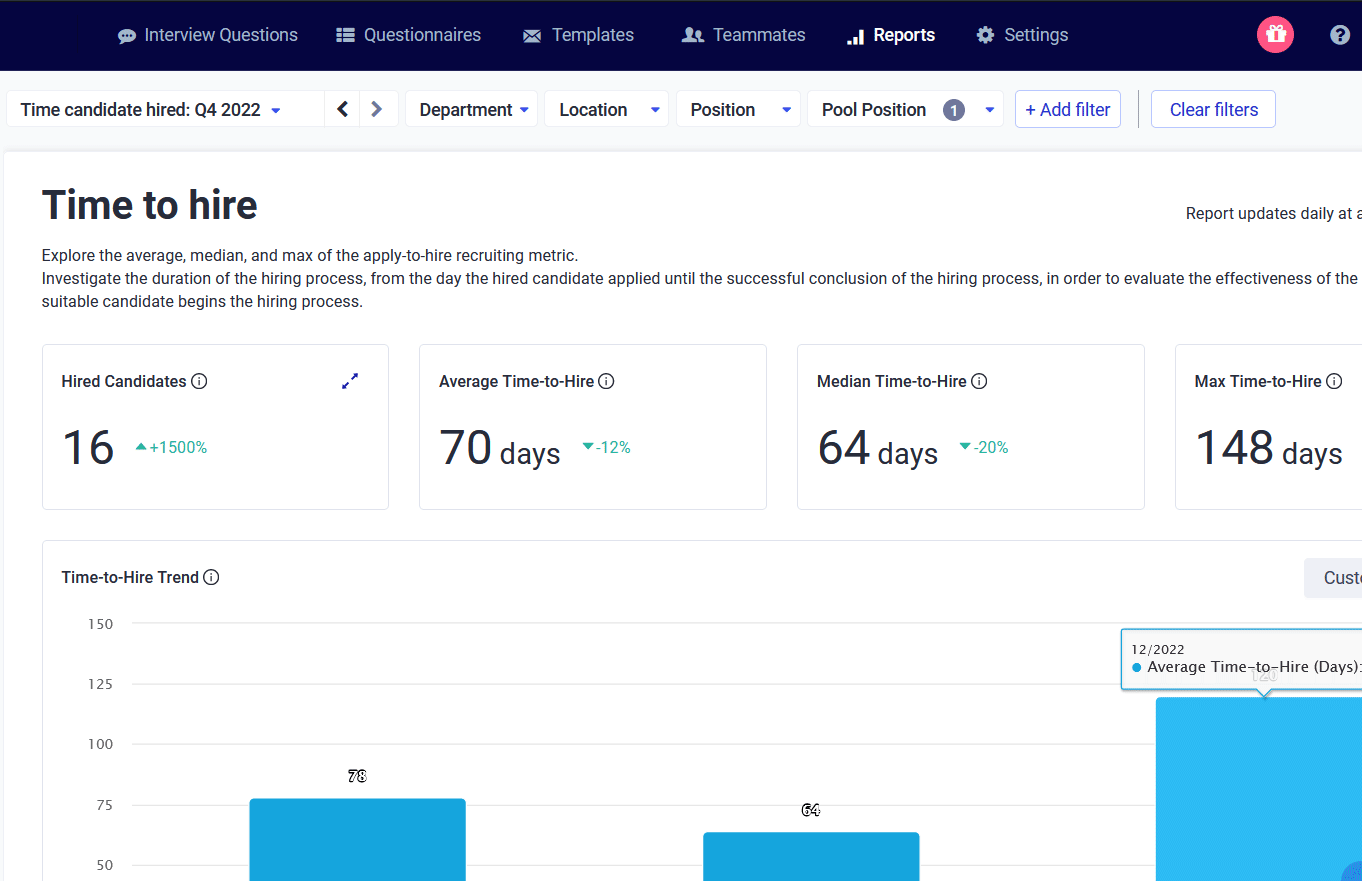 Improved customization
We never stop listening to our customers. We've learned that users want to be able to customize trend charts, tables, and generally how they view their data whether it be by department, position, or particular point in the recruitment process.
Users are also able create table hierarchies, time intervals, and view and load more items on tables with large data sets thanks to infinite scrolling.
Now recruiters and TA leaders can visualize any summary table at the click of a button, export data into a specific BI tool, or place images directly into a presentation to showcase to management.

Fewer widgets, but more options with Recruiting Analytics
Previously, customers may have felt confused, or unsure about the names of certain reports, the terminology inside the various reports, or where to access specific information.
Not anymore. Recruiting Analytics from Comeet is a game changer in reporting power.
In this latest release, we have consciously reduced the amount of 'noise' by designing a much cleaner structure with information and numbers now much easier to digest.
We also appreciate that not everyone feels at home when working with numbers and graphs, which is why we have introduced helpful guides to help make the most out of every report and metric.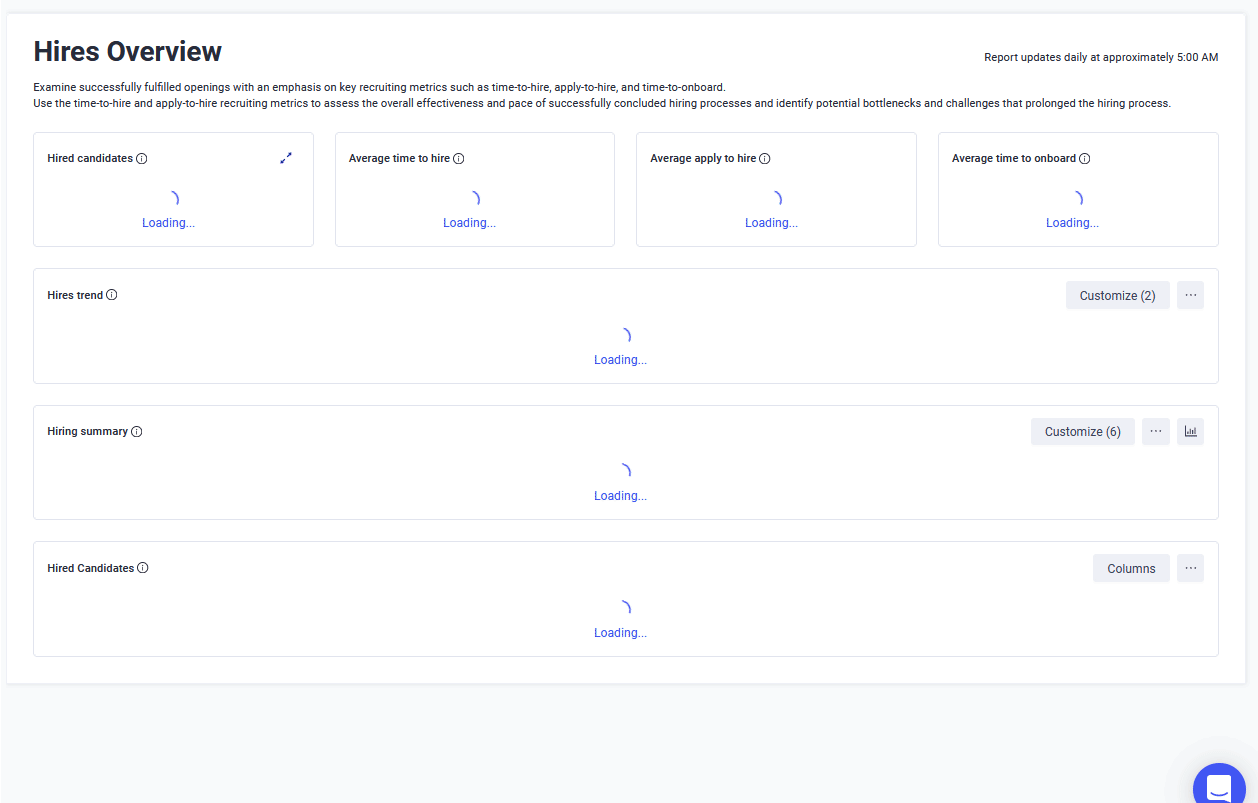 Don't just take our word for it
Here are a few sound bites of what our customers had to say.
"The data is very clear and understandable, I can show it to my managers. Amazing Amazing Amazing!" – Shani Bejerano-Erlich ,HR Team Leader, Communix
"Living the dream, where have you been until now?!" – Meirav Eyal Georgy, HRBP, Deep Instinct
"The system is clear and very intuitive with relevant and easy-to-use analytics. It's a wonderful system" – Moshit Tuval, Human resources director & Roni Braitbart, Talent Acquisition Manager, Future Meat
Want to see Recruiting Analytics for yourself?
We have invested two years of thoughtful design and development into building the one and only reporting tool that recruiters and TA leaders need, to grow from a 10 person startup up to a 20k employee enterprise. As we complete the final stages of testing with customers, we'd like to thank everyone who collaborated with us and helped make this dream come to life.
Our goal is to continue to roll out new offerings and to expand the functionalities, enabling recruiters and hiring managers to gain more efficient insights from our new reporting suite.
Book a demo today to see how Comeet can help you (and your organization) supercharge your hiring experience.
Explore Comeet