Learn more about Comeet's collaborative recruiting platform. 
If you're like most recruiters (and companies), you're likely using dozens of different tools to be more productive. We wanted to share our favorites on Slack, including how you can integrate most of the tools you're using now into one interface for teams.
Slack Productivity Apps for Recruiters and Talent Acquisition Teams
Let's start with what's built into Slack that you can use for HR and recruiting.
Simplify Job Posting
Create a #hiring-job-listings channel for department heads to share their job listings with recruiters. Invite your whole recruiting team and any HR, finance, or executive folks involved in hiring. Create a system with emoji reactions to let the channel know when a listing is reviewed, approved, and published.  
Track Candidate Progress
Add a private interview-[candidate name] channel for each applicant who makes it past your screening process to easily track their progress. Here you can pin the candidate's resume, schedule the onsite, develop questions and assign interviewers, and even coordinate your post-interview review. Making the channel private protects candidate privacy and keeps lengthy deliberations from cluttering a public conversation.
You can also create an offer-[candidate name] channel and a public #hiring-approval channel to easily confirm hiring decisions and update your team if and when a candidate becomes a new hire.
Make a Hiring Plan
Align your search committee by creating a #hiring-[job title] channel to keep everyone involved in hiring on track and up to speed. You can pin the job listing to the channel details pane, and mention the lead recruiter, deadlines, or any important info in the channel purpose.
This channel will be where the game plan for that specific opening will be shared and discussed. Keeping decisions about hiring up-to-date and contained within an accessable and transparent place helps to ensure you're all working towards the same goal. Some helpful actions to take in this channel include:
Deciding how the role will be advertised

Assigning tasks and setting reminders

Pinning interview notes and feedback

Integrating third-party apps to post updates

Allowing internal folks to make referrals

Monitoring

social interactions with job postings
There are thousands of apps to integrate with Slack for productivity, HR management, team member recognition, and referrals. We have a rundown of some of the best we've tried.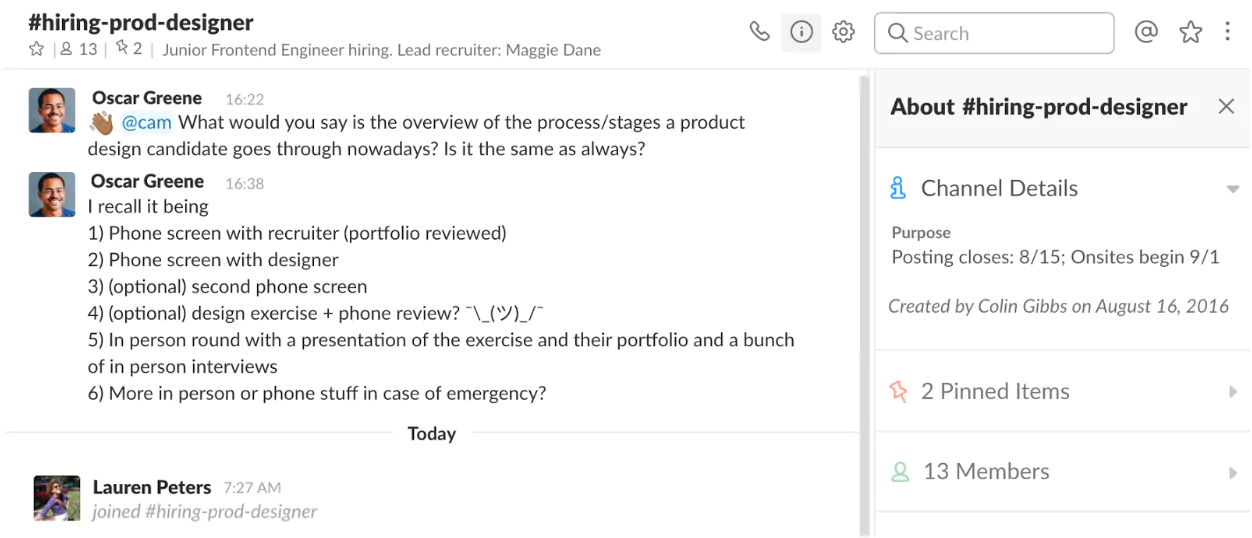 Zapier
To simplify your life, you could use a bit of automation. Zapier allows you to connect over 750+ apps, including Gmail, Basecamp, HubSpot, Evernote, Google Sheets, Typeform, and more. In just a few minutes, you can set up automations called "Zaps," which will turn your Slack into your team's central command. You can even connect calendar events, social media mentions, or new lead details straight into any chat.
CharlieHR
CharlieHR is the free HR platform for teams with big ideas. Used by thousands of companies to save time for the stuff that matters.  Link your CharlieHR and Slack teams to build the ultimate HR workflow. With CharlieHR for Slack, you can: Receive notifications of new time off requests, new hires, working from home, anniversaries…anything relevant or interesting happening on Charlie appears in Slack in a channel of your choice. Receive a daily Snapchat who's away, who's sick, key dates and birthday reminders every morning, so you've got plenty of time to gift wrap their desk! Sign up for free at https://www.charliehr.com/
Slack Employee Recognition
Now your employees can recognize each other, share their achievements and learn your organization's values without ever having to leave Slack. Anyone can type /thanks @user to recognize their teammates — it's that easy! Plus powerful management tools can be found in the ThanksBox Web dashboard. It's easy to get set up.  Just sign up for a ThanksBox account via the link below (with a 14 day free trial for Slack Users), add your employees and add to Slack! One month's free trial for you and your employees — just visit thanksbox.co to find out more.
Blitz
Blitz is a free app that seamlessly adds instant messaging to all your recruitment media and hiring efforts. Engage with talent interested in your company and convert them into actual recruitment leads. Blitz gives them a low-barrier, direct communication channel to you and their future colleagues, directly on Slack. You can use Blitz links/buttons in job postings, direct search or on your career site -— there are no limits. Blitz also assists you in screening and evaluating those candidates, all within Slack. No need for new tools.Our pre-screening technology assures that you get no interruption for you and the hiring team from unqualified candidates. Try it, it's free!
Drafted – The Referral Network
If you believe that referrals are the best source of great hires, Drafted is going to be a game changer for your team. Drafted automatically matches people in your team's network to open jobs at your company, and makes intelligent suggestions about who you can refer, and how to get the intro to them. Drafted Bot can:
Make personalized suggestions for who to refer to every single member of your team

Notify hiring managers about incoming referrals for their jobs

Onboard various groups of people within the company into Drafted, Drafted is completely free for teams under 10 people.
Drafted is free to try for everyone, and is priced monthly based on the number of open jobs at your company and the size of your team thereafter. You can learn more at explore.drafted.us.
Ethnio
Get notifications as you see fit at the convenience of your fingertips. No longer do you need to check your emails to see when you get a recruit for a screener. More features are on their way, including interactive messages, further adding to the simplicity of Ethnio. Ethnio develops tools for UX research teams. In order to use this Slack app, you must have an Ethnio account. It can be free or paid.
Leo
Leo is an Office Vibe Bot that allows you to set up weekly, personalized surveys for team satisfaction. Getting a read on your team's morale is an excellent tool for project-based or ongoing projects in Slack.
HBR
We all need to stay on top of the latest information for our industry. The Slack HBR bot delivers relevant content daily from the Harvard Business Review.
Food = Fuel
Sometimes we have to make really important decisions as a team. Like what we're having for lunch. Domino's is the first national pizza chain to offer group ordering on Slack! With Domino's, ordering a pizza lunch for that work meeting is as simple as having a quick chat. Team members can either order via a direct Slack message to Domino's or collaborate on a group order in a channel.
How it works:
After installing the Domino's ordering app to your workspace, anyone on the team can start a chat with the Domino's bot.

You can start a group order in a Slack #channel by @ mentioning Domino's – pro-tip: like any conversation, this works best when you take turns adding what you want.

When you've confirmed that everyone's added what they want to the order, checkout and your order will be sent to your local store for delivery or pick up.

For those who want to place an Easy Order or Recent Order, send Domino's a direct message and sign in to your Pizza Profile.

To track your order from the time it's placed to when it's ready, talk to @Domino's and ask to track your order.
Learn more about all the newest ways to order Domino's at http://anyware.dominos.com/. It's only available only in the U.S, but imagine the productivity possibilities. 
There are dozens more that we might not have even heard of yet. Got a great Slack app that makes recruiting easier for your team? Share it in the comments!
Are you looking to start your hiring process today? Comeet can help. Check out our plan options to learn more about how we can redefine the way you recruit new talent.
Was this article helpful?