[row][col_half]
Industry:
Software[/col_half][col_half]
Services:
Analytics platform[/col_half][/row] [row][col_half]
Customer since:
2015[/col_half][col_half]
Funding:
$55M (three rounds)[/col_half][/row]
---
Background
Founded in 2006, Clicktale has enjoyed a steady rise from aspirational startup to member of the ecommerce technology establishment. By helping its customers understand consumer behavior, needs, and intent through digital conversations spanning the Web, mobile and apps, it has built a stellar customer list. Walmart, Adobe, The New York Times, Bank of America, Sainsburys, Allianz and BNP Paribas are a few of the companies reaping the benefits of insights identified via Clicktale data.
To take advantage of market demand, Clicktale began to accelerate its own growth strategy several years ago. Since 2013, it has raised over $50M in funding, expanded its HR team, and upgraded recruiting processes. We spoke with Technology Recruiter Rakia Offer about how to recruit when the people you hire have to keep Fortune 100 clients happy.
Let's begin at the end. Where are you now?
The very short story is that we employ around 210. We have offices in Israel, Berkeley, CA and New York, a great customer list, and an HR team of five, of whom 2.5 are dedicated to recruiting. In 2014, we replaced the world's scariest Excel spreadsheet with a recruiting system that nobody liked. In 2015, we replaced it with Comeet, a recruiting system that is a perfect fit for our company, and a company that is a joy to work with.
Where does the story begin?
I joined in 2013 as a tech recruiter to find engineers and developers for the R&D group. We worked very intensively on recruiting them and tripled from about 20 people to where we are now, which is about 65.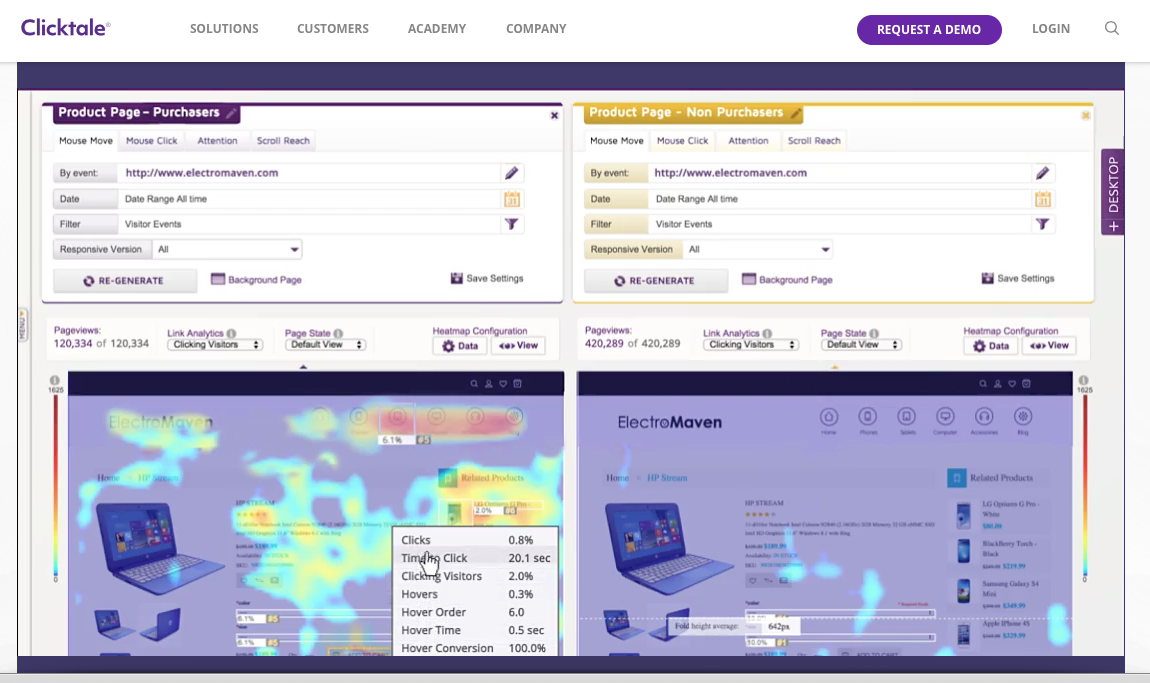 Is the scariest Excel story from that time?
Yes from 2013 and 2014. When I started, our Excel spreadsheet had about 5000 candidates that we would look up manually by email, name or phone number. Three of us used it. Every now and then, you might have two people working on it. If you didn't notice that, your changes wouldn't be saved. It was infuriating and exasperating.
What was the upgrade path from Excel?
I wasn't involved in the decision to change to a local Israeli solution but we did. It's a very heavy platform for overall HR management that wasn't designed for recruiting. It had a terrible UI, took way too many clicks and you had to wait about five seconds each time you clicked. We used it for less than a year. After suffering for about eight months. I got the green light to start looking for a replacement.
That must have been a relief?
Absolutely. Despite being a nightmare, the experience did help me understand exactly what we really needed. I started by contacting recruiter friends in other companies to learn what everyone else was doing, and ended up combining their recommendations with what I thought was important.  
Needs Analysis
What was important to you?
Firstly, the system needed to have an easy and comfortable UI. With our first system, it was very hard to remember how to do things. It was not intuitive at all. I could work for an entire day, come back the next, and struggle to remember all the steps required to do something.
This was a big issue with reporting. It was just so difficult to remember how to get a report out of the system. If you did it wrong. it would pull the wrong stats, and it would not accurately reflect the position status, and it make it appear as if we weren't working as hard as we were. That was the second absolutely critical requirement.
Third was customer support. We had such a bad experience with the first vendor that we were very nervous. The on-boarding experience was terrible, the product didn't work well, and the vendor didn't value us as a customer. After that nightmare, we set the bar extremely high.
What vendors did you evaluate and what was the process?
I worked in a very organized way. I took all my research, mapped our needs, and created a chart that I had in front of me for every demo. Each vendor was checked against this priority list. After looking extensively into the applicant tracking and recruiting software markets, we ended up talking pretty seriously to Bamboo HR, Greenhouse, Jobvite, Comeet and Salesforce. The finalists were Greenhouse and Comeet.

Selecting a Vendor
How did you make a final decision?
It took a long time to select a replacement. I was really concerned about making a poor decision and selecting the wrong system. We also needed to work within our budget. Three things really stood out:
1. I was a lot more confident that Comeet would be able to support us, the staff would be available to me, and that we would get answers when needed. We had a very detailed on-site demo during which a test account had been created for me. I'd played with it a lot, testing it with dummy resumes and job postings. Our Comeet rep returned several times to set up additional accounts and demonstrate features. He was incredibly patient, always available and responsive, even if I had a completely random question. My confidence in Comeet customer support was very strong.
2. Intuitiveness was probably next. Comeet is really simple to pick up. I started working on it and almost instantly knew where to click and how things would move. I had a feeling I could own this system, could easily use it and I wouldn't need much help. It was also really, really fun. After one day, I felt like I could teach others how to use it.
3. Third is something I recommend all companies do when evaluating HR software. I learned from our first experience that I really needed to get the managers on-board with me. I needed them to have a sense that they were part of the decision making so they'd be motivated and excited. I involved them as soon as I started meeting with vendors. I invited a few managers to sit with me to each demo. When we got to the final decision, their feedback was an important part of all the information we considered.
Managers clearly preferred Comeet over Greenhouse, Jobvite and everyone else.
That's pretty interesting. They gave their feedback on each system?
Yes. I chose a group of managers who were actively recruiting. They had a lot of negative feedback on the first system, so I made sure to give them the opportunity to participate in the process of evaluating and selecting its replacement. I wanted everyone to have an opportunity to contribute their voice because they were going to have to work with it.
Implementation
When did you launch Comeet, and what was the roll-out?
We launched in September 2015. The roll-out was really smooth. We already had our accounts in HR from the evaluation process. It was very easy to switch from playing around with resumes and job postings to going live with a branded careers site, promoting openings on social media and using all the other features to find the right hire. To introduce Comeet to everyone else, we invited our rep back to present to our managers. The ones who hadn't seen it before were really excited.
What would you attribute their excitement to?
Comeet is such a huge difference from before. When I introduce managers to the system, it only takes a short demo after which they go off and start working on their own. If a software system is hard to learn, hard to use, and basically annoying, no one will use it, even if you tell them they have to. In contrast, Comeet is fun. Hiring team members see everyone's faces. It's connected with their LinkedIn accounts. It's simple to share information and positions. Comeet gives a cool look to the HR process.

Anything that managers seem to specifically like about working with Comeet?
The candidate evaluation section is one. It's easy to provide your feedback, whether in the form of stars or written notes, based on what you are comfortable doing or have time to complete. Information sharing is big, too. Sharing via their LinkedIn profiles is pretty cool. They're not all doing that yet, but the fact they can is a big plus for them. Visibility in the process is huge. They can see the entire position and candidate flow, open my interview summary and see what I thought of the candidate. We've never had these workflows before, which are really helpful to save time, and ensure nothing falls through the cracks.
Did you customize your own workflows?
Yes. Although we have our master flow, each department has their own. Every step and every person on the hiring team is built into each one. Some departments, for example, have specific tests that each candidate must write or pass. Instead of a tech test, some might require a presentation instead. Once a department finalizes a flow, it is usually the same for all positions. All the marketing positions generally use the same flow.
Results
It seems fair to say that Comeet is a little more widely used in Clicktale than the system it replaced?
It is night and day. We have about 15 open positions in the low season and up to 50 during the busiest periods of the year. We use Comeet in both Israel and Berkeley, CA to fill them. Our external headhunters in the USA email candidates directly into Comeet, which automatically creates profiles and notifies us.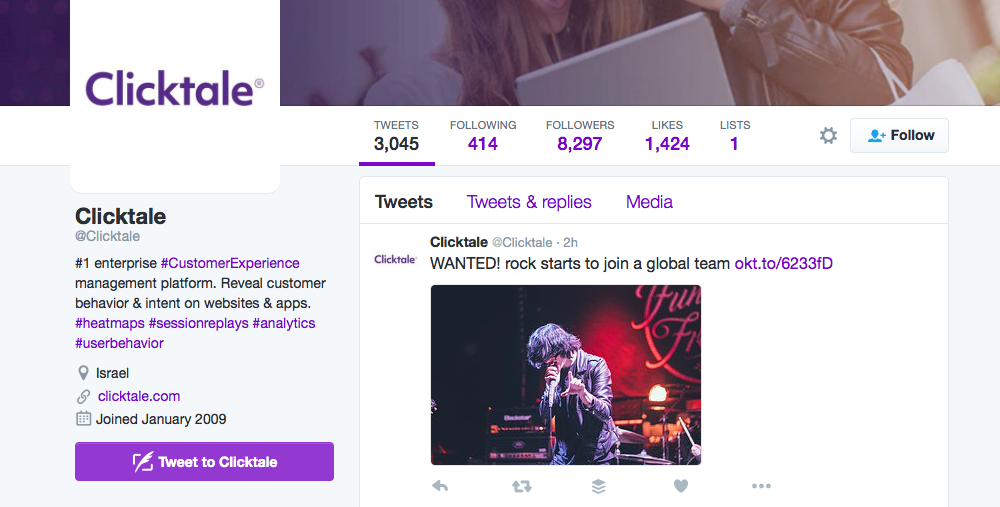 And the overall experience has been better, too?
It's been very, very positive. I'm so happy I found this system and my bosses were so excited. It was exactly what we were looking for. Creating engaged hiring teams has been a huge success. Of approximately 210 employees currently, close to 55 have Comeet accounts. I've never heard of any recruiting software with that amount of distribution or access across a company.
Comeet has great energy as a vendor. The product actually works, and they're open to new ideas. They're really excited when I give feedback, and I feel like I can give them it and see changes. I really, really like the solution.
---

"From Day One, it's been amazing. I get extra credit from my bosses for finding Comeet."
Rakia Offer, Technology Recruiter, Clicktale
Post with Comeet. Let us show you how it works:
Was this article helpful?