BambooHR Integration Kicks Off Comeet Partnership
Over ten years, BambooHR has done a great job progressively building an HR platform for small and mid-sized businesses that have outgrown spreadsheets. (Their marketing pitch sounds a little like Comeet's, doesn't it?). "Outgrown" means exchanging the frustration of trying to make spreadsheets do what they weren't designed to do for the blissful happiness of modern purpose-built software.
BambooHR comfortably fits into the blissful software category; having been specifically architected for the many HR issues that growing companies face. Features include an employee on-boarding portal, performance management, time-off tracking, benefits administration, employee records database and HR reporting engine.
Overall, It's a well-organized tool that an increasing number of our customers are adding to their HR toolbox. It's also a "friendly" platform that will remind you of many consumer websites you've frequented. We like "friendly" software and the people who make it so partnering, via a technical integration and channel sales framework, seemed too mutually beneficial to ignore. Emails were exchanged, phone calls made and APIs discussed.
A Smooooooooth Data Hand-off
The primary result is seamless data connectivity for common customers. If you're one of them, you will find the "handoff" of your new employee to your BambooHR account instant and effortless. It's administrative efficiency that will make a fine addition to your recruiting, hiring, and HR management continuum. (More information on the Comeet/BambooHR partnership is here).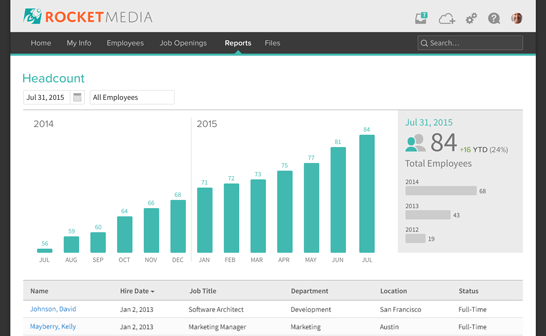 How to integrate BambooHR and Comeet
Connecting your Comeet and BambooHR is a simple one-minute project. Log in to your Comeet account, visit Settings > Integrations. Choose the BambooHR integration. Click Integrate. Follow the instructions, then click Activate. You're done. It's adieu to manual data entry and hello to having all the necessary data to properly say hello to your new employee.
Bamboo HR data exchange
You've connected your Comeet and BambooHR accounts. You've just hired a fantastic hired SDR, CFO or Head of Inbound Marketing. What's next? Log into BambooHR and select the location and job title from the available values. If you want, you can also choose to create a new job title on BambooHR using the same position name in Comeet. A new employee is then instantly created with the following data from the person's Comeet profile:
First name

Middle Name

Last name

Email

Resume

Profile photo (if square)

Phone

Cell phone

Position

Start date
That's it. Easy peasy, lemon squeezy. We know you use many different tools to find and manage people. If you're using a tool, software or HR resources that we should know about, drop us a note at integrations@comeet.co. 

Are you looking to start your hiring process today? Comeet can help. Check out our plan options to learn more about how we can redefine the way you recruit new talent.
Was this article helpful?