Intelligent recruiting is collaborative and comprehensive, focused on the candidate experience as well as hiring manager and recruiter engagement, to make the hiring process agile and flexible. It also allows companies to hire quickly and effectively in these changing markets, which makes the technology indispensable for successful recruiting.
The History of the Applicant Tracking System
The modern applicant tracking system was first developed In the 1990s as a way to house online applications for the purposes of online storage and compliance. Personnel professionals were overjoyed with the function
Human resources is highly dependent on candidate data, and the technology they use must be more than compliant; it must be easy to use, collaborative for multiple users in the hiring process, and enhance the candidate experience. Rather than simply storing data, intelligent recruiting technologies are a partner for recruiters, streamlining day-to-day processes and freeing up time for recruiters to spend on human-to-human interaction.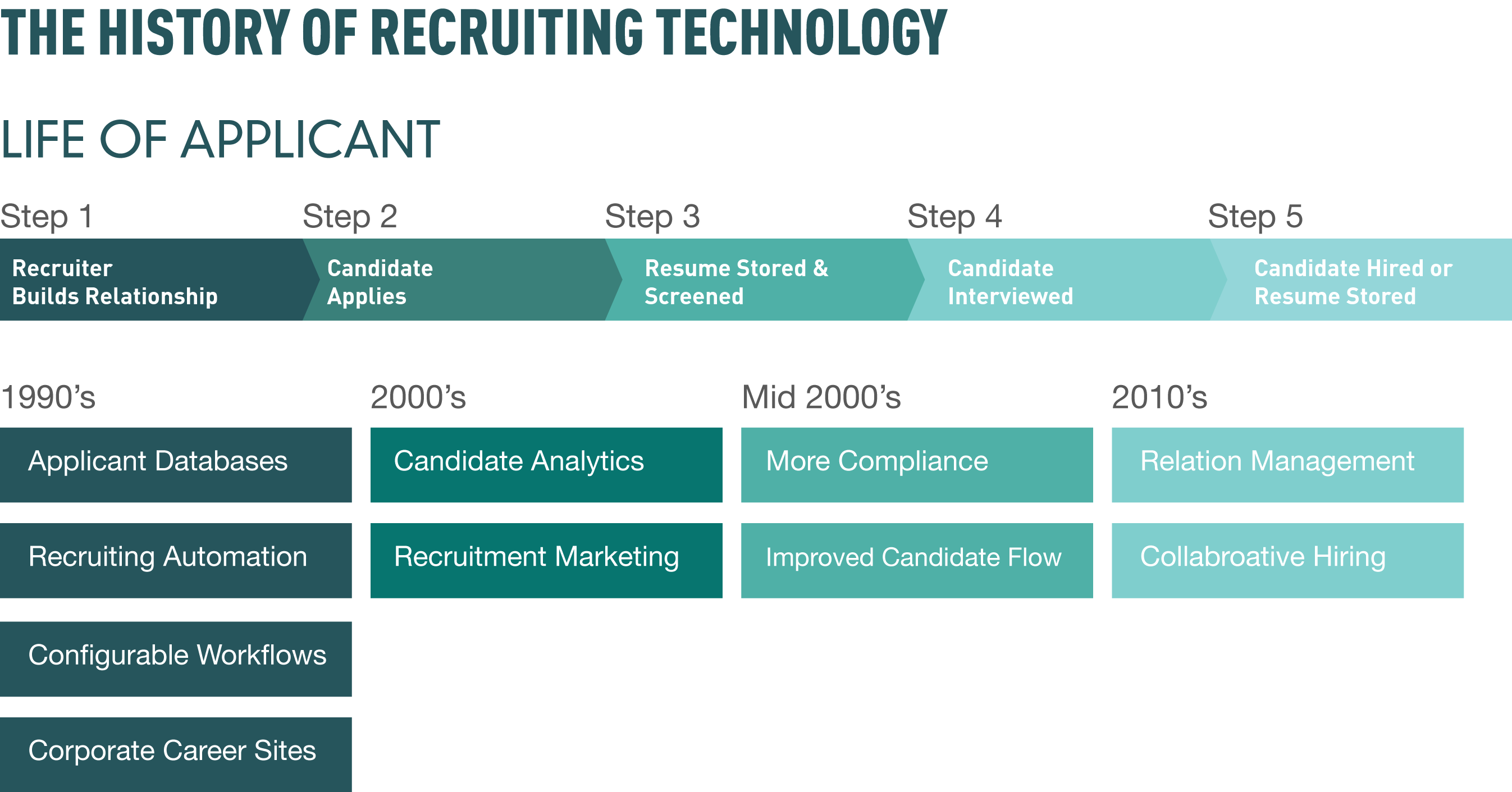 Top Trends in Intelligent Recruiting
An increase in mobile applications. According to a November 2015 study by the Pew Research Center, 28 percent of all Americans have used a smartphone for part of their job search. For 18- to 29-year-olds, that number jumps to 53 percent. And they're not just reading job descriptions — more and more want to apply for a position right then and there on their phone. Your recruiting software should be responsive for mobile, and allow integration with social accounts such as LinkedIn to make it as easy as possible for candidates to apply on your careers page.
The gig economy. Your ATS should also allow customized workflows and contractor skills categorization. A study by Intuit predicts gig workers will make up 43 percent of the U.S. workforce by 2020 and recruiting technology must keep up with this trend by making it expedient to quickly hire and onboard contractors, otherwise they'll move on to their next gig. It's a zero unemployment, candidate-driven market. Intelligent recruiting software should shorten your time-to-hire significantly in order to engage and retain contract candidates.
Employee referrals. According to a LinkedIn survey, 48 percent of recruiters say referrals will be their top source of quality hires this year. Referrals are hired faster, perform better and stay longer at a company than your standard applicant. An employee referral portal allows current employees to connect their social media accounts and broadcast job openings to friends, family and acquaintances quickly and easily. Your ATS should be able to track employee referrals in the hiring funnel and notify the referring employee as changes occur, as well as calculate referral bonuses and rewards.
Your employer brand. A strong brand impacts whether qualified candidates will decide to join your team – or accept a competitor's offer instead. According to a 2017 LinkedIn survey, 72 percent of recruiting leaders worldwide agree that employer brand has a significant impact on hiring. There's plenty of evidence that a great employer brand makes it easier to recruit and it also impacts the business' bottom line in more than one way. For most companies, those numbers can equate to millions of dollars in savings and reduced time to recruit. Your ATS should allow for career site branding customization and consistency across channels, as well as multimedia integration. A 2016 Glassdoor U.S. Site Survey reports that 69% of candidates are likely to apply to a job if the employer actively manages its employer brand (e.g., responds to reviews, updates their profile, shares updates on the culture and work environment).
In 2018, recruiters expect software to handle everything from job postings to application to onboarding and employee training. The ATS has moved from a compliance database into a highly engaged and developed tool designed to enhance the hiring process. Today's ATS must be able to integrate with existing HR solutions, such as HRIS, background check screening, sourcing, interview technology and CRM.
What are the must have features you want out of your future or current ATS? 
Are you looking to start your hiring process today? Comeet can help. Check out our plan options to learn more about how we can redefine the way you recruit new talent.
Was this article helpful?