One of the biggest administrative headaches in recruiting is scheduling interviews. With all the back and forth between the hiring team and candidates, valuable time is lost. If that's not enough, long hiring processes also give your competitors the opportunity to hire your ideal candidates before you do. 
To solve this problem, we considered partnering with an automated scheduling software company. After thoroughly researching players in this space, we learned that none of the existing tools could solve the unique challenges of scheduling job interviews. So we decided to create our own scheduling solution. We wanted a solution specifically built for recruiting that would shorten the process, improve speed to hire and create an awesome candidate experience.
Introducing Comeet's Auto-Scheduling
Comeet's Auto-Scheduling helps recruiters do their jobs more efficiently. It does everything our customers want in a scheduling tool, from eliminating the back and forth activities involved in coordinating schedules to reserving meeting rooms for onsite interviews. It all adds up to a faster time to hire. 
It also replaces repetitive administrative work with automation so that recruiters aren't typing and sending emails over and over to different candidates. Recruiters and hiring teams are now free to focus on candidate relationships and are able to create better, more consistent candidate experiences at scale.
"I have been working with Comeet's Auto-Scheduling for a month now and it definitely makes my job better, quicker, and more efficient!  I love the new feature!" 

Efrat Shenkar, HR Manager at Konnecto
Hire the best candidates faster
Auto-Scheduling improves speed to hire by allowing hiring teams to schedule interviews faster. It does this by letting recruiters, hiring managers and other interviewers block off times for interviews ahead of time on their own calendars.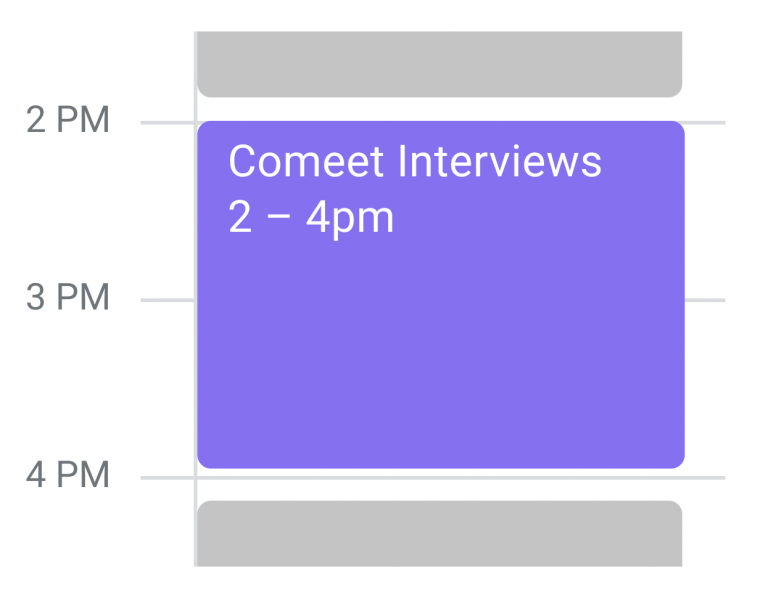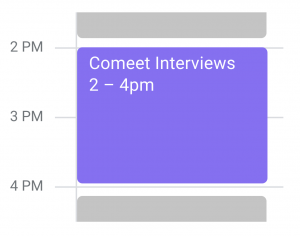 Candidates can even see available times and schedule their own interviews, which reduces the time it takes to reach the next interview. Scheduling interviews and hiring candidates faster give an edge in competitive job markets, allowing employers to hire talent they might lose to competitors.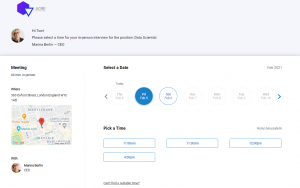 Save time
Being a fully automated scheduling tool saves time. For instance, when you need to schedule video interviews, a Zoom link is automatically added to the calendar invite. And, for onsite, in-person interviews, meeting rooms are automatically reserved. 
Scheduling more complex interviews like Panel interviews can even be done without juggling multiple schedules or going back and forth with multiple people. Interview times can be blocked on multiple interviewers' schedules ahead of time and the candidate is presented with dates and times that work for everyone. 
And when dates and times shown to candidates don't work for them, Auto-Scheduling makes it easy for them to suggest alternate dates and times, eliminating the need for additional back and forths.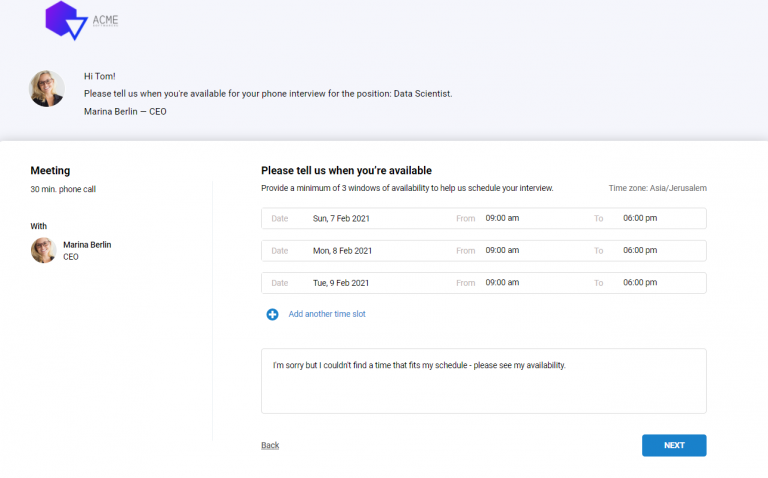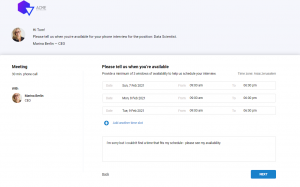 Create a better candidate experience
Talent Acquisition leaders know how important it is to provide a great candidate experience. Bad candidate experiences lead to negative reviews, tarnish employer brands and deter great candidates from applying to what could be great roles. Creating a great candidate experience could be the difference between making great hires or settling for poor ones. 
Auto-Scheduling lets you take your candidate experience to the next level with the following features and capabilities:
Add LinkedIn profiles to invites

– Create more transparency and help candidates prepare for interviews by getting to know the interviewer. Auto-scheduling allows them to quickly visit the interviewer's professional bio using their LinkedIn profile or another online bio.

Include interview tips and instructions

– You can also provide interview instructions so candidates know what to expect during the interview and how to prepare for it.

Reinforce your employer brand – Providing simple tools to candidates that are branded for your company creates a great experience that reinforces your employer brand.
Getting started with Comeet 
If you're already a Comeet customer, get started today with Auto-Scheduling and start saying hello to ideal candidates faster. If you're not already a Comeet customer, contact us today so we can show you how to use Auto-Scheduling and other features to quickly hire the best candidates in your industry.
Was this article helpful?