Any comprehensive talent recruiting program needs to cast a wide net to identify and entice the most desired candidates. Today, most recruiters rely on a wide range of channels to source candidates for their companies. But how effective are all these various sources in practice?
We've done a detailed study of where candidates are sourced and what the quality of those candidates are. It's important to understand both the volume and the quality of the candidates you're reviewing. For example, are most of your candidates coming from job boards, agencies or referrals? And for each source of candidates, are you getting 'good' candidates, ones worth consideration? A source driving lots of candidates that don't meet your requirements are wasting your resources, in both time and dollars.
Specifically, our team analyzed over 5 million candidates sourced and reviewed by Comeet customers over the last five years. We focused first on how candidates reached us (i.e., their respective sources) and next, on whether candidates passed initial resume/CV screening (via either a simple "Go" or "No Go" decision to take them to the next step in evaluation).
Why is this important? By tracking the source of each candidate's application, you can determine where your best candidates come from – those that are worthy of further consideration and focus your recruiting and hiring efforts on those sources.
(That's why it's important your recruiting and applicant tracking system provides comprehensive candidate source tracking! Here's a free guide on choosing the right ATS for you.)
We also looked at the end of the process and identified how different recruiting channels relate to candidates that are eventually hired. Again, it certainly makes sense to direct your attention to those channels that result in the talent you end up hiring.
The Most Effective Recruiting Channels
What did we find?  Well, across the Comeet customer base, we've found the most productive channels, in terms of finding candidates that met initial resume screens percent-wise (see Figure 1), are:
Sourcing / Direct Outreach (85%)
(candidates who apply after recruiters or hiring managers directly reach out to individuals of interest, e.g. via email, LinkedIn, etc.)
Non-Paid Referrals (65%)
(generally candidates referred by management or non-company individuals not eligible to receive company referral program fees)
Academic (60%)
(typically candidates applying via university placement programs)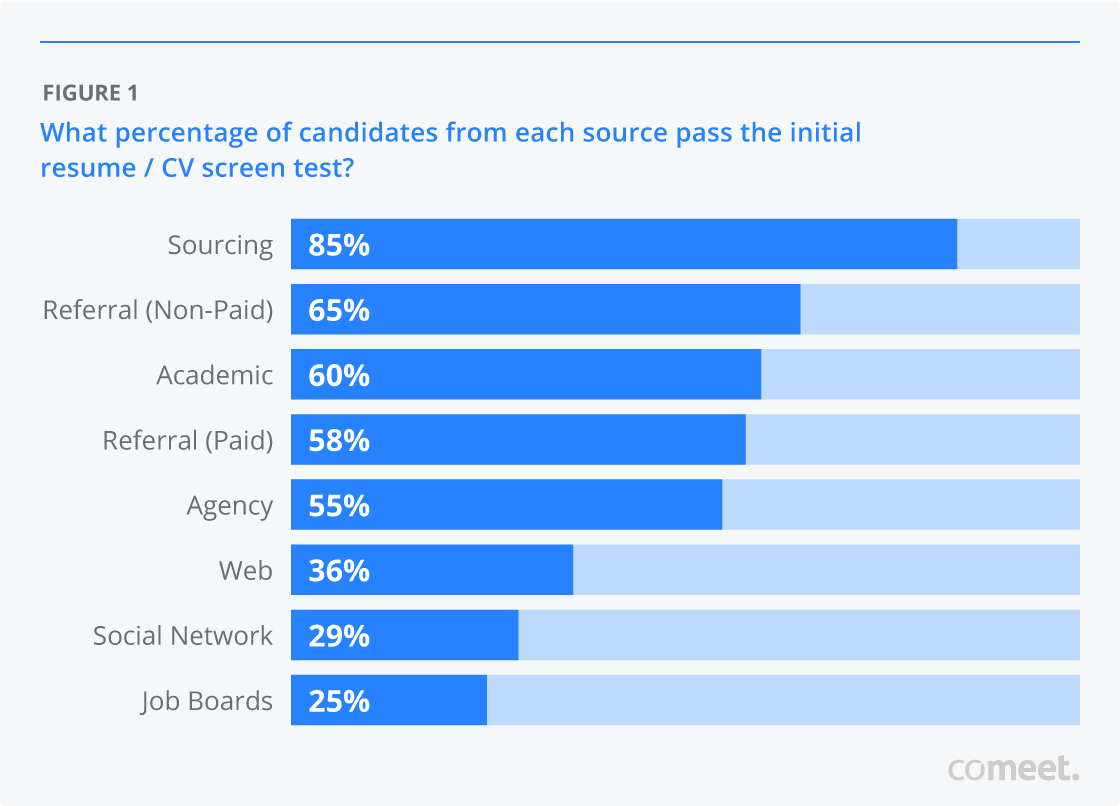 Alternatively, those channels that have shown to be least effective (again, ranked by those candidates who pass initial screens percent-wise, see Figure 1) are:
Job Boards (25%)
Social Networks (29%)
Web (36%)
However, when we look at where most candidates are coming from, Job Boards, not surprisingly, comprise 34.5% of all reported sourced candidates, Social Networks comprise 16.4% and Web sourced candidates 10.6%.  Thus, the channels that companies use for over 60% of candidates – drive the least effective results.
One data point of particular interest, particularly given the cost, is with recruiting agencies. Candidates coming from agency searches (either contingent or retained) barely pass initial screens half the time (55% passing, 45% not passing).  
Looking at the distribution of candidates eventually hired, by source, shows a somewhat different story, driven by where the volume of candidates are coming from, regardless of channel effectiveness.
One particular interesting point is the total share of hired candidates coming from various referral programs (almost one third).  This demonstrates the power of supporting a strong referral program.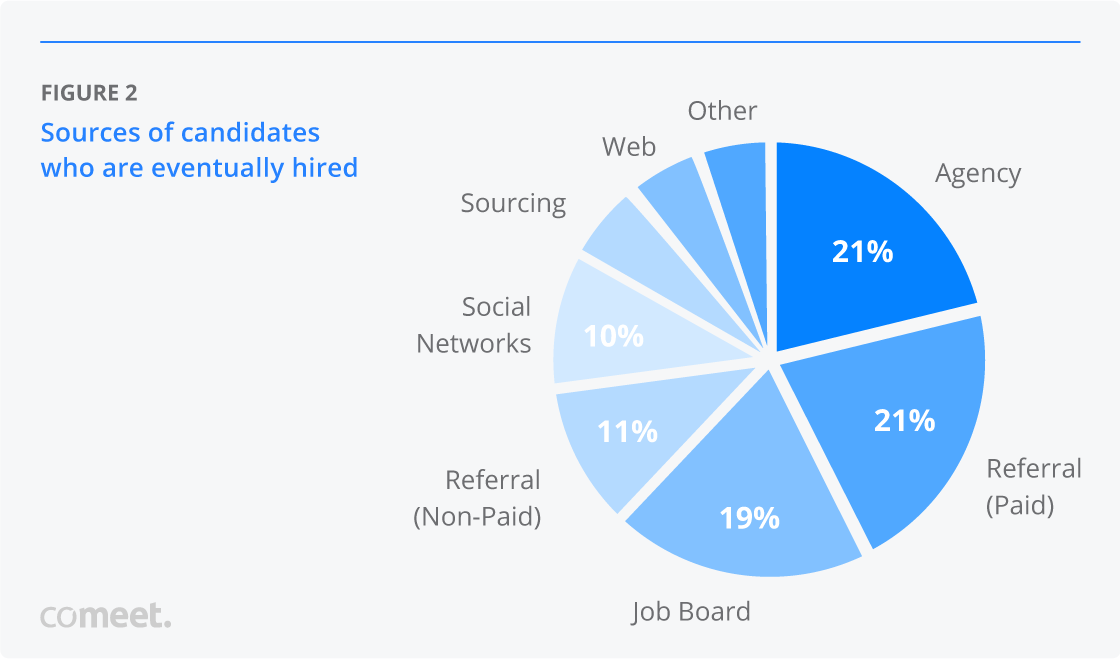 Steps for Recruiters and Hiring Managers to Take
Given this data, what should you do in your own recruiting process?
Don't ignore the 'harder' channels. Sourcing and Direct Outreach can take more effort and cost up front, but you're likely to see much higher quality of talent that meets your criteria. A team member focused on direct outreach leading to 3-4 hires annually will typically save you money.
Put efforts into having your management team and your network actively participate in your recruiting efforts. Make sure your recruiting platform helps you drive employee referrals and social media traffic from your employees' networks.
Don't rely on the easy-to-use channels like Job Boards and Social Networks.  It's easy to simply put up a job description but you'll end up wasting time reviewing lots of candidates that don't even pass your initial screens. 
Make sure to better clarify job requirements. With agencies barely seeing more than half of their submitted candidates useful, you should make sure your agencies really understand what you're looking for and are more selective about the candidates they reach out to and submit for open positions.
Don't neglect your referral programs. Make sure you're engaging your employees and doing all you can to drive referral-based candidate submissions.
Remember – your mileage may vary! Make sure you have a recruiting and applicant tracking system that enables you to track your own metrics. Download our guide to get the best ATS for your company
Was this article helpful?