We've said it before, but we'll say it again because it's true. Our customers are at the center of everything we do.
Since launching Comeet, our top priority has always been to reshape the way companies find and hire talent. Every new feature we roll out reflects what our customers expect, which quite simply is to focus on creating winning teams, as opposed to filtering resumes, juggling multiple systems, accessing candidate information from various sources, or dealing with spreadsheets.
We never want our customers to wait for improved recruiting tools, which is why we're excited to announce that we've integrated LinkedIn Recruiter directly into Comeet ensuring an even more effective recruiting process.
Supercharge your recruitment experience!
If you're a recruiter or sourcer with a LinkedIn Recruiter account, you can now work between Comeet and LinkedIn via the LinkedIn RSC integration. Having one integration suite helps you focus purely on candidates. After all, recruitment isn't just about finding people. It's about finding the best people, right? But when you don't have an ATS integration, you spend half your life switching between platforms and downloading resumes.
No more lack of visibility
Previously, there was no visibility into a candidate's profile or previous conversations on LinkedIn through Comeet. This lack of visibility was time-consuming (not to mention incredibly frustrating) for recruiters. The LinkedIn RSC integration lets you view a candidate's profile, InMail conversations and notes directly through Comeet, saving you time and making your recruiting experience seamless.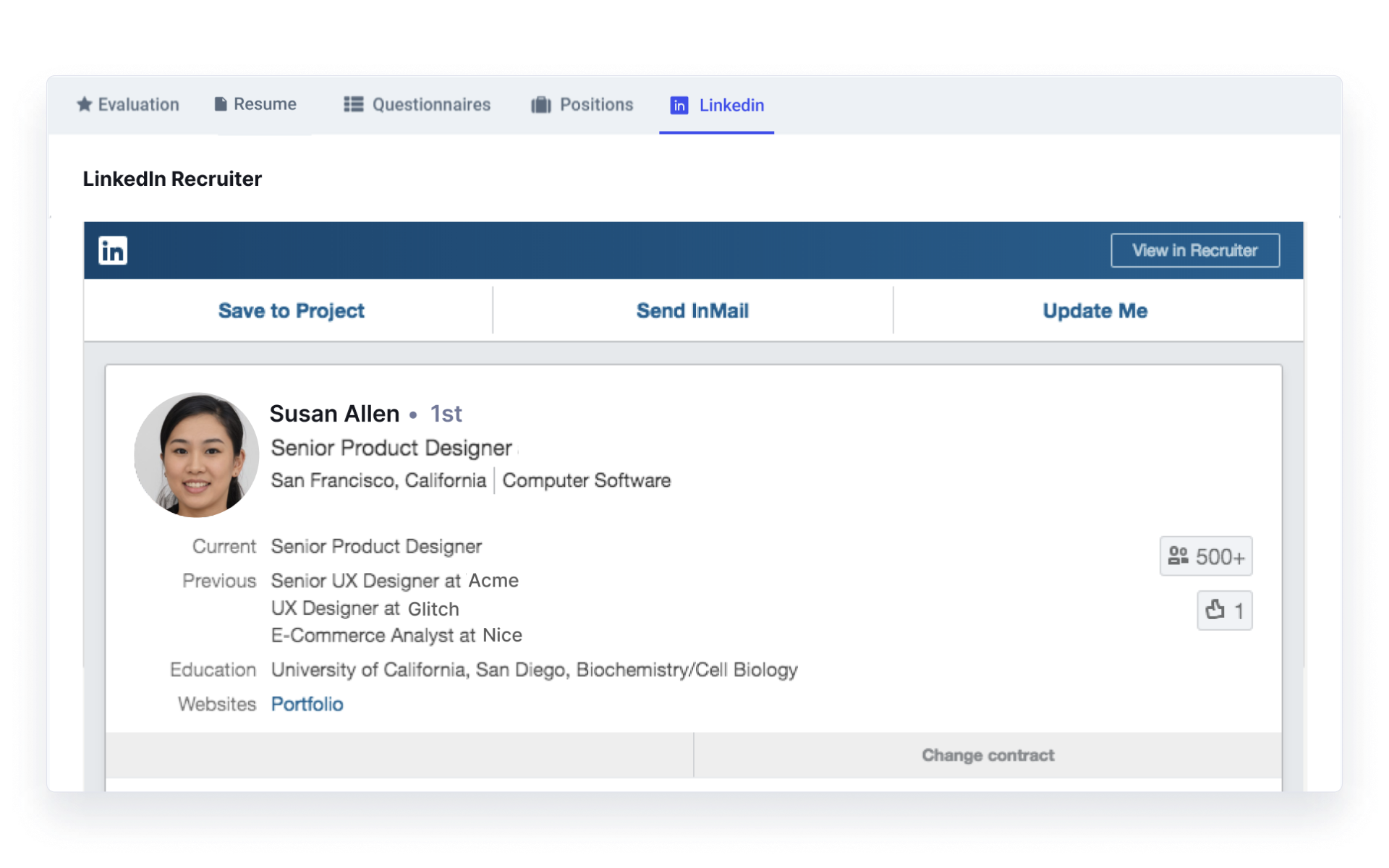 No more time-consuming activities
Have you ever imagined a time when you no longer needed to switch between LinkedIn and your applicant tracking system? Until now, exporting a candidate from LinkedIn required downloading their resume separately, which could be challenging in itself. The integration with Comeet allows you to export the best profiles with one click. No more time wasted downloading resumes or profiles, allowing you to collaborate more efficiently while saving you at least 3-4 hours per week because all your candidate activity is centralized in one place.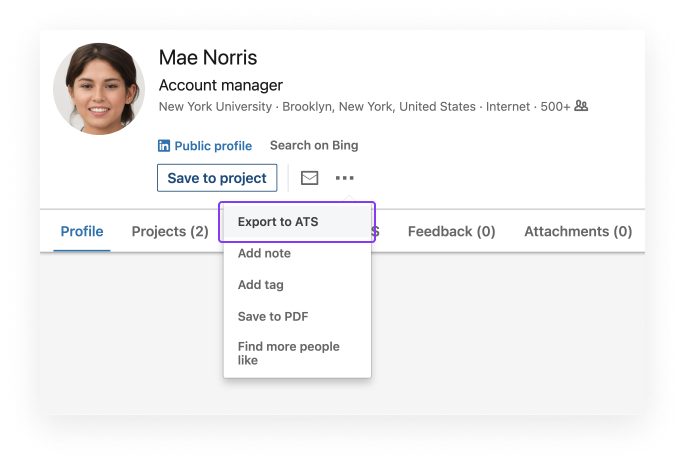 See LinkedIn activity on Comeet
With the LinkedIn RSC Integration, when a candidate selects to share their contact information with the recruiter, their candidate profile will automatically be updated in Comeet in real time. You can now also view all the candidate's InMail history and send InMail messages directly through Comeet. This feature will boost your communication process without needing to continuously switch between platforms. InMail messages and notes that are created on LinkedIn Recruiter will be available on the candidate's profile under the new "LinkedIn" view in Comeet. Talk about effortless!

See Comeet activity on LinkedIn
Of course, any true integration is a two-way street, and that's definitely the case here. Not only will users be able to see a candidate's LinkedIn activity on Comeet, but they will also be able to see activity created inside Comeet on LinkedIn. This means you will no longer need to flick back and forth between Comeet and LinkedIn to see if/when a candidate was interviewed and which role(s) they may have already been considered for. Now that's a true integration.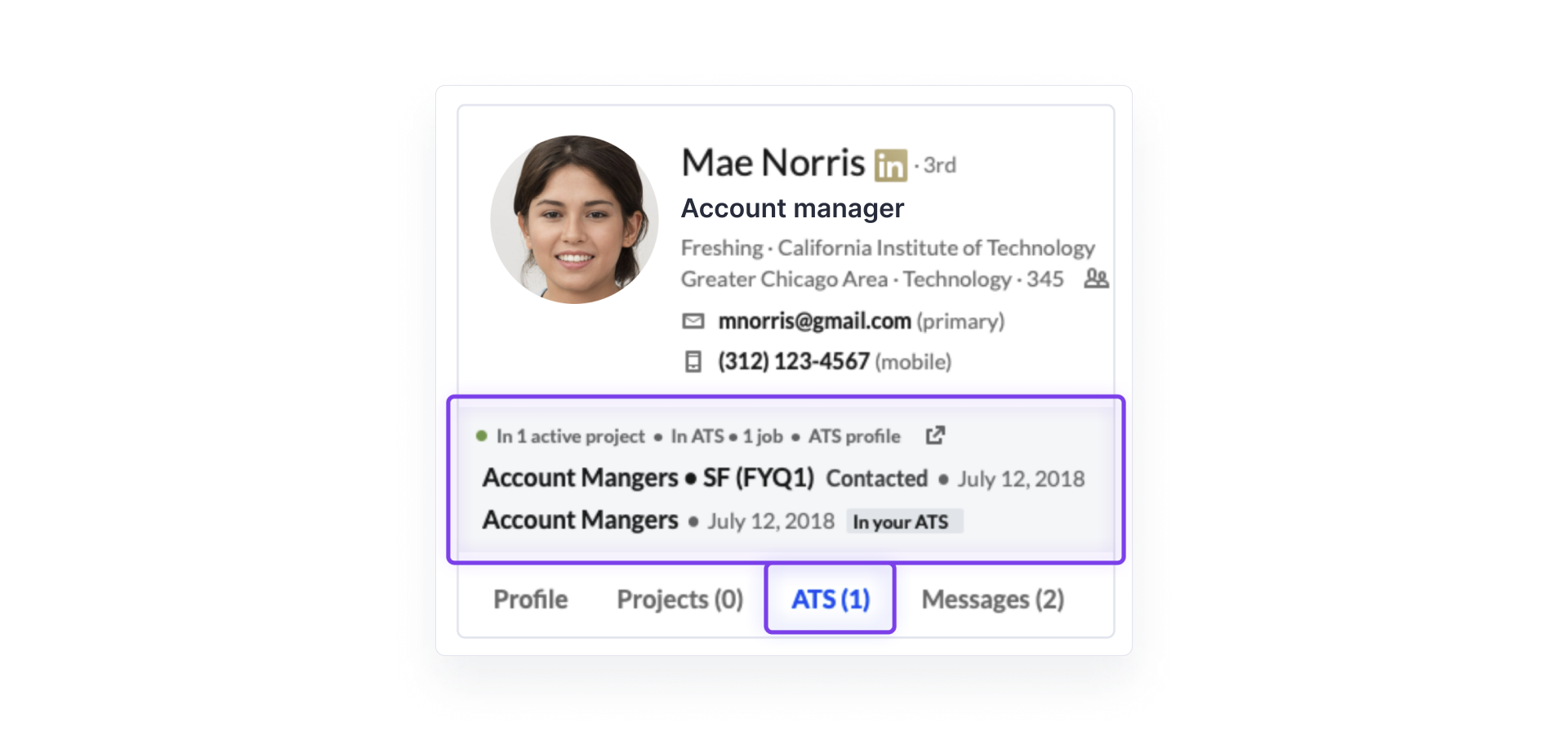 Customer inspired
The LinkedIn RSC integration is a huge milestone in the Comeet journey and one of many additional product features on our platform in 2022. Everything we do at Comeet is inspired by our customers. We conducted extensive research—including multiple interviews and feedback sessions—with various hiring managers and recruiters to see how they use Comeet and how we can improve it.
And that's why we decided to harmoniously integrate LinkedIn into our platform. Want to see it for yourself? Book a demo today.
Was this article helpful?