At Comeet, we're excited about supporting you through your entire recruiting and hiring ecosystem, which is why we've improved the Comeet integration with Indeed. Recruiters can now enjoy improved campaign management and increased exposure for sponsored jobs on Indeed more easily.
This update helps recruiters:
post new positions with near real-time synchronization
manage and customize campaign budgets from Comeet
get better visibility into activity from Indeed
update jobs and track campaign performance with Indeed analytics
Manage sponsored jobs
Anyone with permissions to update position sources (this is based on your organization's configuration) can help manage sponsored Indeed jobs. From the Sources tab in the relevant position, click Sponsor to start a campaign:
It takes a couple of hours for Indeed to process the transaction, and then you're set to go. The Sponsor button changes to an Active button when it's ready.
Now, to manage the campaign, open the dropdown menu from the Active button: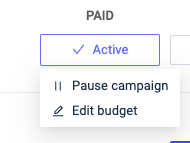 Track & analyze campaigns
Candidates who apply by clicking on sponsored jobs are associated with a separate source in Comeet called Indeed Sponsored. This way, you can compare the performance of sponsored jobs to free jobs. View the performance per position from the Sources tab; see the performance of all of your paid campaigns from the Sources overview report.
You can also find additional metrics and management options in your Indeed account.
Update job descriptions and details
Once integrated, every time you update a job description from Comeet, the description is also updated in the Indeed posting as well.
Already integrated?
If your Comeet-Indeed integration is already configured, you don't have to do anything special! All the new functionality is already available to you, and all of your already sponsored jobs will continue to be sponsored.
Haven't configured the integration yet?
Administrators or owners should configure the integration with Indeed by enabling Free postings automatically from the Settings area and connecting Comeet to a paid Indeed account.
Getting started
Read more about Sponsor Jobs on Indeed
Happy recruiting!
Was this article helpful?