For any growing company, talent acquisition is the engine that fuels that growth.  Successful companies effectively recruit and hire top talent to their workforce. Less successful companies typically struggle on this front.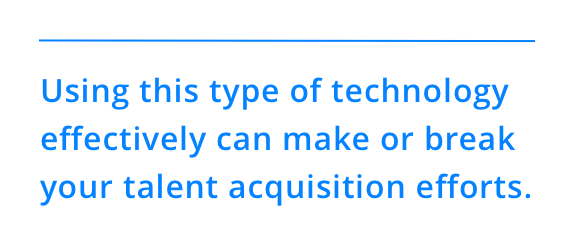 While historically, an arduous, time-consuming, inefficient process, today, high performing companies rely on modern technology to power their recruiting and hiring efforts, similarly to how other corporate functions benefit from the latest applications.  The underlying software platform used by HR professionals, recruiters and hiring managers to drive efficiencies, reduce time-to-hire and improve talent quality is most commonly referred to as an applicant tracking system (ATS).
Psst… looking to switch to a new ATS? Our free buyer's guide outlines the process. 
What Is an ATS?
If you are in any way involved in sourcing, recruiting and/or hiring talent for your company, you need to know about applicant tracking systems.  Using this type of technology effectively can make or break your talent acquisition efforts.
Applicant tracking systems (also called talent management systems or collaborative recruiting platforms) are used to manage and streamline the entire workflow of your recruiting efforts in a highly efficient approach.  In most cases, ATS rely on cloud-based technologies to allow everyone on your team easy access to the application, and remove any IT or new infrastructure costs or requirements.
When it comes to recruiting, if you struggle with common ATS pain points like:
Posting the same job position across multiple job boards

Keeping your career page on your site current and accurate

Drowning in applications and candidate submissions

Scheduling candidate interviews

Maintaining spreadsheets to track candidate status

Knowing what channels are most effective for candidate sourcing 

Ensuring consistency in your interviewing process

Keeping everyone up-to-date with what next steps…
…You can most certainly benefit from a collaborative applicant tracking system.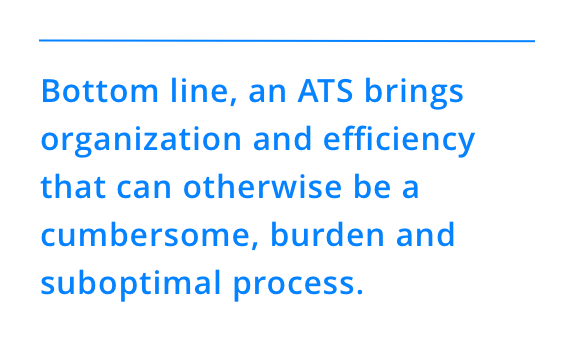 Depending on the extent of functionality, an ATS can help you post, promote and share your job descriptions, keep all resume submissions in one place, send automated messages, schedule interviews, manage workflows, provide tests & assessments, assist with responses and automate many other parts of your hiring process.
Some ATS will also allow your HR team to use a candidate's data into your systems for payroll, etc. once hired.  Bottom line, an ATS brings organization and efficiency that can otherwise be a cumbersome, burden and suboptimal process.  If you want to bring a repeatable, optimized and collaborative process to your hiring efforts, an ATS is just what you need!
How Do Applicant Tracking Systems Work?
The older generation of ATS were basically a repository or database of your candidates' submissions (e.g., contact info, resume and cover letter) to a job posting.  Once stored, you could search and sort through all the candidates in the ATS, based on the system's specific functionality.
For example, you could search for resumes with a specific keyword, related to specific job requirements.  Some ATS would allow you to automatically rank resumes against your job descriptions so you could more easily look into those candidates that match your requirements more closely.
Today, modern ATS have significantly more functionality to power your recruiting efforts.  With an ATS' automated workflows in conjunction with the candidate data, all the steps in your interviewing process can be managed vastly more effectively, ensuring nothing – and no one – is lost along the way, and you can attract and hire the top quality candidates you want.
As we'll highlight below, a modern ATS brings the capabilities of always-on, secure, cloud-based collaborative technology to the entire organization.  Today, with an ATS you can benefit from real-time communication, automation and detailed insight & analysis in your hiring programs.
Use our guide to get started finding your ATS.
Benefits of an Applicant Tracking System?
The primary benefit from using an applicant tracking system is to most efficiently manage every single step of the recruiting process, from job posting to applicant submission to applicant review to interviewing to hiring.  With smart automation, artificial intelligence and workflow management, you're assured that no one falls through the cracks, managing the recruiting process is simplified and you're in the best position to identify and hire the best candidates for your roles.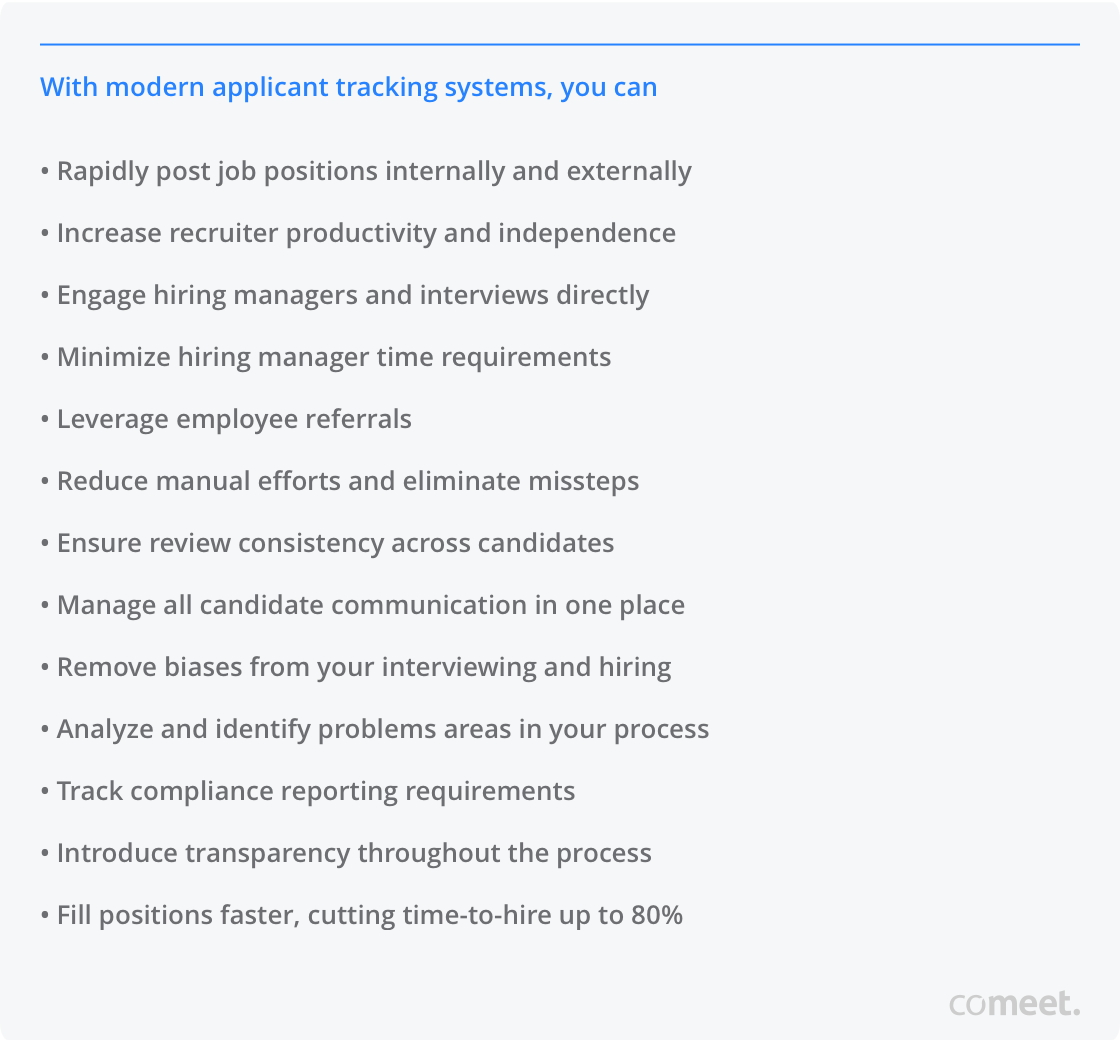 An ATS can also prove beneficial for job candidates as well.  With some platforms, candidates may apply to multiple positions easily based on their LinkedIn profiles, so there's no need to re-enter all their information (e.g., contact data, background & experience, work history, resume, etc.) every time.
With other similar single sign-on functionality, candidates may quickly apply for future positions without duplicating effort, vastly improving the submission experience.  They can certainly customize parts when submitting to individual positions, but much of the standard data can be easily used again, saving time by avoiding unnecessary retyping.
Another advantage of an ATS is letting you easily track the sources of candidates applying for your positions.  By analyzing the various channels against the results of the candidates, you can more easily understand your best and least performing candidate sourcing channels, to ensure you put your efforts, resources and dollars where they are most effective.
What is the Difference Between an ATS and a CRM?
You can think of an applicant tracking system as a type of customer relationship management (CRM) system.  General purpose CRMs, such as Salesforce.com or Zoho, are used to track your interaction and engagement with your customers.  If you think of your prospective hires as 'customers' as well – as you should – there's similarity in having a comparable software application to manage your interaction and engagement with them.
However, an ATS is a much more specialized type of application.  It's purpose-built specifically to handle all the nuances and specifics of the recruiting and hiring process.  While an ATS may be called a 'recruitment CRM,' a typical CRM simply doesn't have the feature set and functionality that a modern ATS has.
The Best Applicant Tracking System Features
Modern applicant tracking systems have a variety of features.  With each system having its own specific capabilities, it's important to know which are most important to you and which ATS features work best relative to your particular recruiting process.
Here are a number of the most important applicant tracking system features you should make sure to dig into when considering the appropriate platform for you.
Feature: Sourcing Candidates
Sourcing job candidates is the start of your recruiting process.  An ATS can help with setting up your career pages on your site; post to job boards like LinkedIn, Indeed, ZipRecruiter and Glassdoor; manage a candidate referral program; collaborate with external recruiting agencies; identify possibilities from prior candidates and analyze the performance of all the different sources.
Feature: Employer Branding
An ATS is the primary engagement vehicle a job candidate has with your company, so it's important that it presents a positive and consistent brand experience at every touch point.  An ATS can present a branded career page and automatically deliver branded email communications.  Other branding functionality can include automated recruiting bots to engage your candidates at scale and even candidate experience surveys to review and identify ways to improve your process.
Feature: Candidate Screening
One way an ATS proves helpful is in helping screen and shortlist your candidate pool. An ATS can include candidate questionnaires to help insure candidate relevance, automatically create candidate profiles throughout the recruiting process, identify and eliminate duplicate candidate submissions, provide simple initial go/no go screening and offer insights on candidate rejections/withdrawals.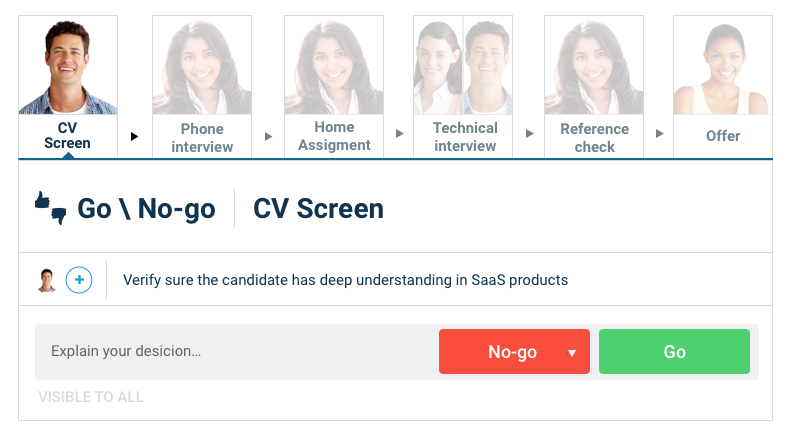 Feature: Scheduling and Emails
Automating the scheduling of candidate interviews is an important ATS feature.  By integrating calendars, and email templates with email services like GMail and Outlook, scheduling can be coordinated and simplified.
Feature: Candidate Evaluation
Some ATS now can assist with the candidate evaluation process.  Prior to phone or in-person interviews, complete candidate profiles can be made available to maximize productive interview time.  An ATS can provide sets of questions to use, and ensure consistency across evaluations by creating specific sets for given roles. An applicant tracking system can also help with collecting feedback with custom scorecards and automated email reminders for interviewers to submit their assessments.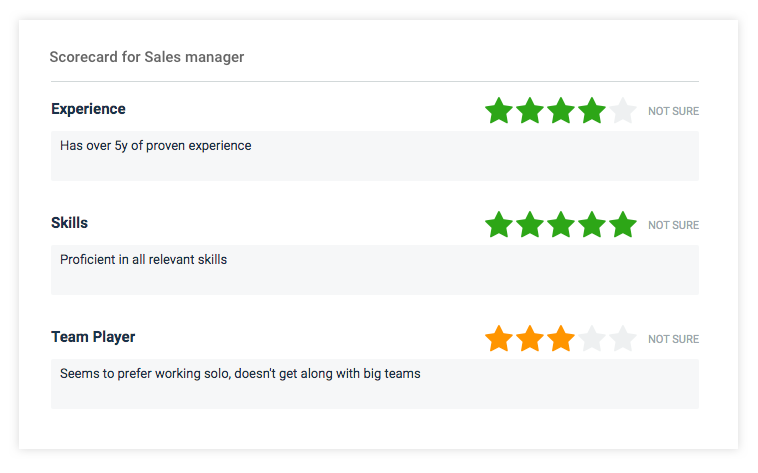 Feature: Team Collaboration
In most companies, recruiting is a team sport (as it should be!).  That's why ATS needs to support collaboration between HR, recruiting staff and hiring managers.  This can be enabled via real-time messaging, workflows, activity logs and calendars so everyone, regardless of role, stays on track, is accountable and stays informed and up-to-date.
Feature: Ease of Use
As with any modern software application, having a user-friendly, easy-to-use interface is a must have for any ATS.  These systems need to be intuitive as lots of team members will interact with the system who may not have much to any training.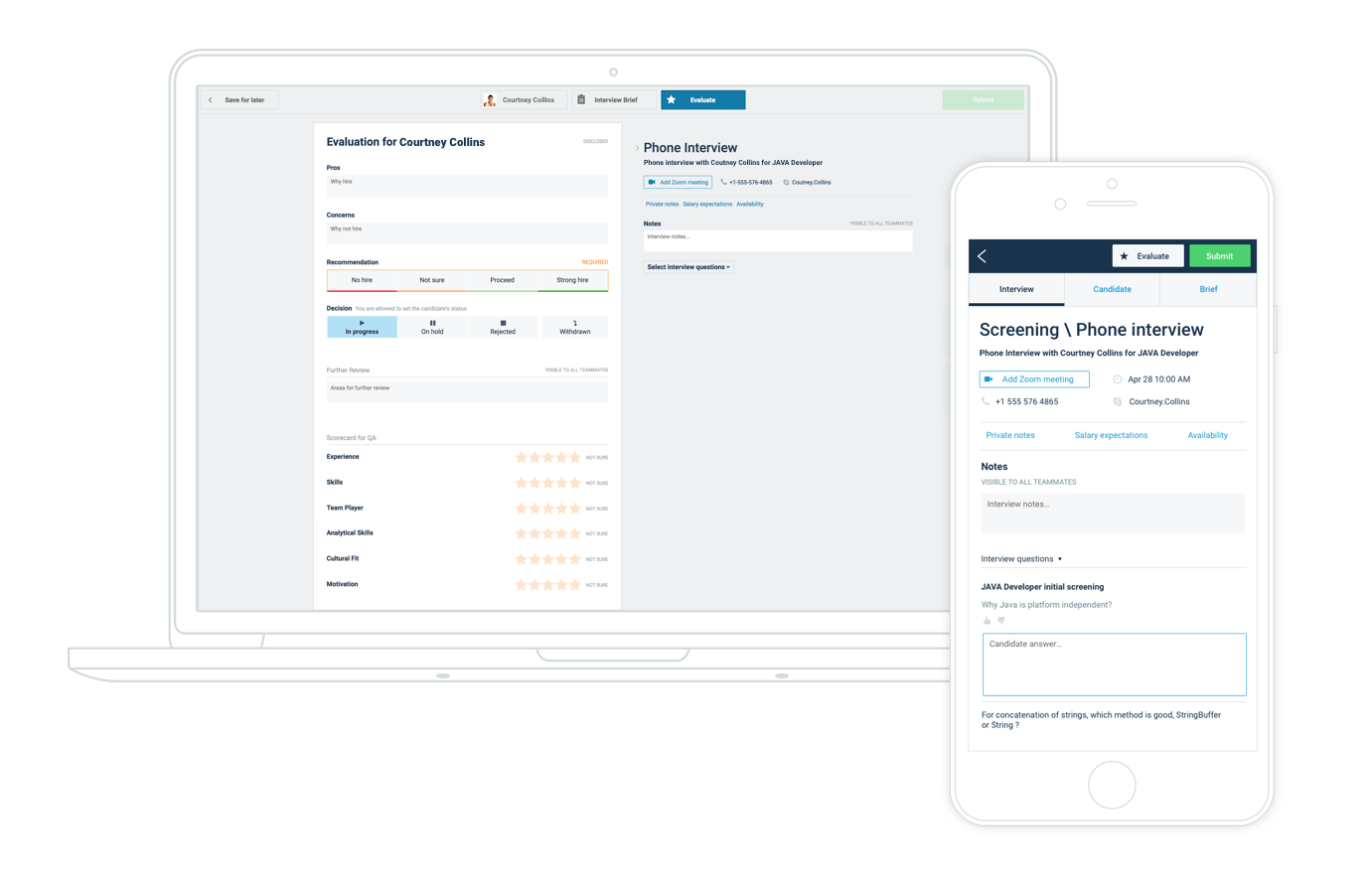 Feature: Insights & Analysis
Like other business functions, it's crucial to be able to analyze performance and identify areas for improvement.  A modern ATS can provide an overview of all the metrics and KPIs for a recruiting program (e.g. time-to-hire, sourcing channel analysis, job position reports, recruiting funnel status, etc.) via a wide array of both existing, standard reports, and customized reports and enterprise-level dashboards.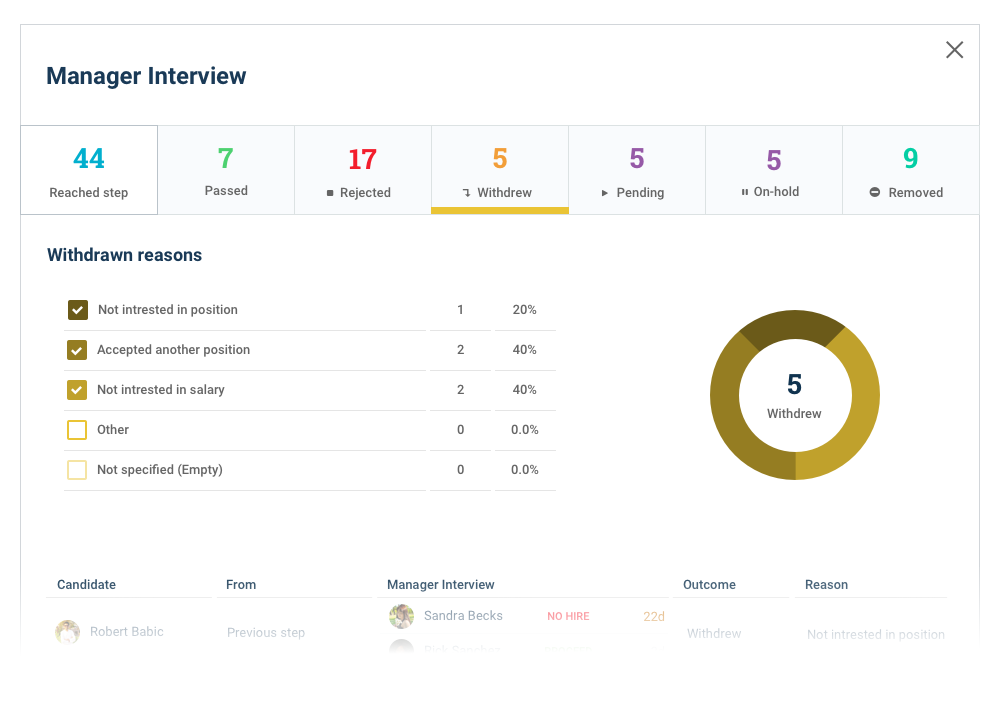 Feature: Integrations
An ATS today is not a stand-alone system.  To work efficiently within your organization, an ATS can integrate with many other of your existing applications and platforms as well as external systems, such as job boards, assessment services, HR information systems, background checking, calendars, video, e-signing, etc.
Feature: GDPR / EEOC Compliance
With an ATS today, you can ensure your recruiting and hiring programs maintain compliance with GDPR, EEOC, country-specific regulations and internal policies or guidelines.
Feature: Mobile Support
Hiring and recruiting today happens 24×7.  As with other business critical applications, an applicant tracking system can provide mobile functionality to support all users in the talent acquisition process, wherever they are.  This makes everyone more responsive and helps accelerate the overall process.
Our guide walks through all the features to look for (with a handy checklist!). Download it free here.
How Do I Find the Right ATS?
Choosing the 'right' applicant tracking system for your company is an important decision.  As highlighted above, recruiting talent and getting them onboard is one of the most critical aspects of your company's growth plans.
But every company is different and yours likely has its own recruiting and hiring process.  You need to understand what functionality is important to your company and what features could drive real improvement for you.
There are numerous ATS in the marketplace but before making a selection, you need to get a true feel for them, through peer recommendations and referrals, demos, trial and actual use to see which one will help you best meet your recruiting goals today, and tomorrow. Get our guide to navigating the process here.
For a given ATS provider, understand what types of client companies it has, how much investment it's making into its platform, what its implementation and/or migration process looks like and what new technologies (e.g. AI / machine learning) are being added.  You want your ATS selection to be one that positions you well for the future.
Are There Any Free Applicant Tracking Systems?
As with anything in technology, you get what you pay for.  There are lots of applications out there but only with a paid system will you find all the functionality we've detailed here, and more importantly gain the resultant benefits from a comprehensive platform.
In addition, working with a proven provider of applicant tracking systems is the only way to guarantee access to a qualified support team, system security, 24×7 reliability and the peace of mind that the system you're relying on will continue to improve, and be there for you no matter what needs you have going forward.
Are you looking to start your hiring process today? Comeet can help. Check out to our pricing plans learn more about how we can redefine the way you recruit new talent. Or just drop your details below and we'll get back to you promptly.

Was this article helpful?