Automate Recruiting
Workflows for super-efficient recruiting
Our flexible workflows are smart, self-updating foundations of recruiting efficiency. They guide your entire hiring process, continually advancing each requisition. Define workflows when creating a new position, then enjoy a fast, streamlined experience as your hiring team identifies the best candidates.
Customizable by position or individual candidate
Can run both serial and parallel steps
Self-updating based on configuration, evaluations and status changes
Auto-steps make company policy enforcement easy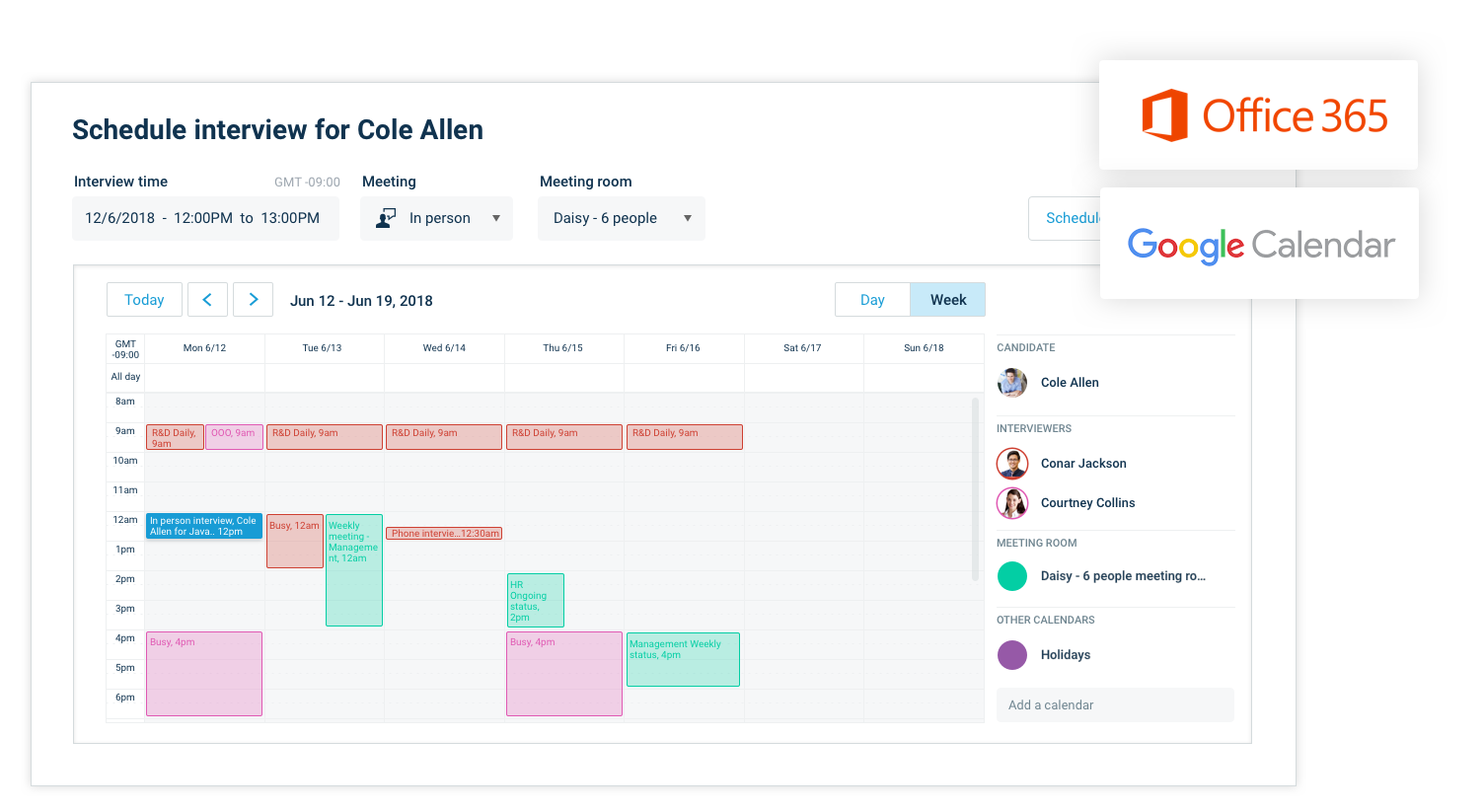 scheduling
Smart integrations will keep you organized
Google Calendar and Outlook365 integrations make scheduling almost too simple. When scheduling, rescheduling or canceling interviews, interviewers and candidates are automatically notified and room reservations synced. When candidates need to reschedule, it's equally simple for coordinators to keep on top of the details.
task automation
So you can focus on higher-value stuff
Automating everything that should be automated is good for recruiting teams (and the planet!) so we applied a heavy dose of automation wizardry. Dozens of smart automated features save time for everyone:
Reactive workflows
Communication with candidates and sources
Automated steps to send notifications, advance candidates and schedule interviews
Policy enforcement: Ensure everyone's doing the right thing
Integrated calendaring
Automate postings to job boards
Integrations with recruiting tools, HRIS, video and assessment tools
"Comeet automates so many manual tasks such as contacting candidates, and scheduling interviews that I can do a lot more. This is very important because I run all HR for my company."
offer letters
Close the deal with streamlined approvals and e-signing
When you automate recruiting, you accelerate the process, so when you're ready to land your first-choice candidate you'll have to move fast when the time comes:
Offer letters generated automatically using your predefined templates
Streamline your internal approval process
Send letters to candidates for e-signing
All document changes and signing events captured in audit trail
Integrations
Friends with your entire recruiting stack
We get along with all of the other technologies and services such as Zoom for video interviews that you probably use to source, test, vet and on-board candidates. We're fluent in APIs and connectivity.
"Automation helps us send emails and interview reminders. There are too many things to list."
Neri Peled
Senior HR Director