Comeet is more than just an ATS
We thought recruiting needed some rethinking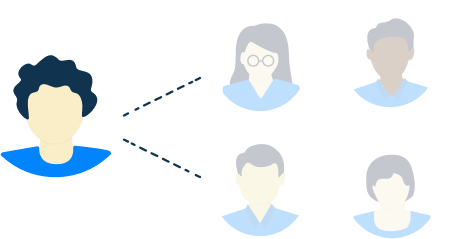 Recruiting's More than Recruiters
With 25-30% of staff typically involved in recruiting, why were―and still are―so many recruiting systems (ATS) exclusively designed for recruiters? It was a head-scratcher. Keeping so many hiring teammates in the dark seemed like an inefficient path that would unavoidably lead to poor hires. 

Everyone Should Be Able to Collaborate
The way forward was clear—bring recruiters, hiring teams, candidates and sources together, enable and encourage their collaboration and prioritize efficiency. From this "we can definitely improve recruiting" epiphany, Comeet was launched.
Automation Equals Acceleration
Comeet is for a world where collaboration takes place across continents—not just tables. Where hiring team members, candidates and sources expect a personalized process, and ATS automation can save even small companies hundreds of hours annually.  

Latency is the Evil You Can't See
Automation and intelligent workflows ensure that recruiting in Comeet is continuously progressing based on your process. Latency is unknown because the completion of one task immediately starts the next.   
The "Better Way" Principles We Embrace
Comeet is Inclusive
Comeet connects everything involved with recruiting; all the people, processes, services and resources that collectively add the right people to your org chart.
Comeet is Comprehensive
One platform integrating workflows, task automation, communication, collaboration, interview optimization, analytics and third-party tools and services. Combined with sourcing and recruiting services – we're more than an just an ATS.
Comeet is Collaborative
Connected people, information and feedback centralized and available. Coordinated and scheduled events. Nothing and no one fall through the cracks.
Comeet is Task-Oriented
Recruiting reduced to single tasks assigned to specific recruiting teammates. Nobody will wonder what they have to do next and where to start.
Comeet is Friendly
The latest user-centered design theories influenced how we initially built Comeet. The result was both friendly and award winning (Uxie 2015). Customer feedback now shapes its future.
Comeet is Efficient
We implemented smart task automation across the entire source-to-hire spectrum, while making tasks requiring human perspective much easier to complete.
Comeet is Enjoyable
Our Customers page is a happy place; they often use the "E" word and others like amazing, fantastic, happy, life-changing, superb and thoughtful to describe using Comeet every day.
Comeet is Flexible
A flexible and responsive system, Comeet is ideal for our fast-evolving world. Integrate your current hiring tools and third-party vendors, and be ready for whatever change tomorrow brings.
Comeet is Much More
An ATS helps you manage resumes, but why stop there? We combined resume management with everything else necessary to rapidly build a candidate pool and reduce it to your newest teammate.
The Upside of Being Different (aka Fast)
Following isn't in our DNA; while everybody else in recruiting tech continues to zig, we've zagged en route to an award-winning product and seriously happy customers. Being different is the difference.
Designing for the entire hiring team; not just recruiters
Visibility of recruiting inside your company will jump. A lot.
Organizing recruiting into sequential tasks assigned to team members
Prevents people, information and events from falling through the cracks
Keeping everyone and everything connected using visual workflows
Transparency and accountability highlight bottlenecks
Helping everyone excel in their respective hiring team role
25-30% of employees at Comeet customers actively participate in recruiting
Automating what should be automated while optimizing manual activities
Eliminates friction and delays, improving time-to-hire metrics
Preventing interviews from becoming meandering and meaningless
Ensures interviewers leave interviews with all the information they need 
Enabling continual improvement in your recruiting activities
You'll have the data and KPIs to optimize everything you're doing
(Best for Last) Developing the friendliest recruiting system on the planet
Your entire hiring team will love using it
Where customers drive product development
We listened to "customers" way before we had a product or actual customers. Their feedback continues to guide our product roadmap. While they don't code for us, their wants and wishes prioritize what our engineering team tackles next. We invite you to test drive Comeet to experience first-hand what happens when customers get what they want.